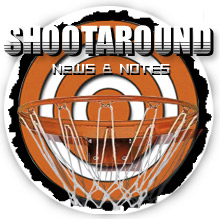 Bogut's back, Joe Alexander's back, Pops is back, and Curry is not back. Posted by Matt Moore

We've kept you up to date on the health and progress of
Andrew Bogut
. The
latest news is good news
. He told the Milwaukee Journal Sentinel that he expects to be ready for training and camp and in the opening night lineup.
Bucks
fans, you can exhale, paramedics are standing by.
The
Hornets
have
agreed to terms
with Joe Alexander. Joe Alexander, people. There's simply no way that the economy is not rebounding if Joe Alexander has found himself employed. Alexander provides the Hornets with almost nothing they have any use for, but hey, someone's gotta guard in camp.
The
Knicks
are so young
Posting and Toasting dreamed up
Anthony Randolph
with crayon.
Pops Mensah-Bonsu
got a training camp invite
! With... the Hornets. But hey, that team doesn't have depth issues. Not in the slightest. It mayh sound disingenuous to say that Joe Alexander doesn't deserve a camp invite and Mensah-Bonsu does, but Pops has NBA length and can defend. Alexander has a poor choice in facial hair.
Baron Davis
may win an Emmy
for his gang violence documentary. Being involved with film was a big reason Davis wanted to leave the
Warriors
for the
Clippers
, and it's good to see he's put the opportunity to good use. Probably won't make fans feel much better about all the time he's missed, though.
How far the might have fallen. Michael Ruffin
is now in coaching the ABA
. What's left of it, the modern one. Not in the 1970's. That would require a time machine and that risks Ruffin seeing his past self and causing a hole in the universe and it's all very complicated. Much like the reasons for the existence of the ABA currently.
The
Greatest Center of modern times gets a run
by Kelly Dwyer. If you didn't love the Dream Shake, you didnt like sports.
Arco Oil's naming
rights deal for the Sacramento arena is expiring
. So the
Kings
will open it up. With the economy and its effects, I'd imagine we're going to see more and more changes in arena rights. Which is kiind of a reason to have a non-sponsored name. But that's just too much money to leave on the table.
Eddy Curry
will be the last Knick
to report for training camp. Which is nice. I'm actually glad, that way we can spare ourselves the talk about how this will be the one where Curry turns it around and how he looks more motivated than ever. Let's just get it out of the way, he's deadweight. Heavy deadweight.
Hey, look, Mark Cuban's
delusional
. Fun!