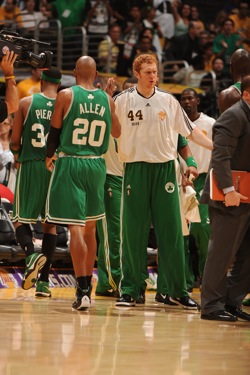 Posted by Royce Young
Some thought the day might not ever come. But after five seasons as a pseudo fan favorite in Boston, Brian Scalabrine is set to finally ship out.
Multiple outlets are reporting that Scalabrine is following one of his old assistant coaches and signing with the
Bulls
. The deal is a non-guaranteed camp invite, but reports indicate that Tom Thibodeau pushed hard for Scalabrine and with that kind of support, the veteran forward might have a shot at the roster.
The Bulls need training camp players as they currently only have 12 players under contract. So while Scalabrine's deal is non-guaranteed, he has a pretty solid chance of being on the team. In fact,
one report said a source said
Scalabrine is a "good bet" to make the final Bulls roster. So while the contract isn't guaranteed, by the looks of it, Scalabrine should be playing for Chicago this season. Well, not "playing" I guess. More like sitting.
Why the interest in such a minor signing like Scalabrine? Honestly, I have no idea. But there's something about the awkward redhead that people find interesting. He's a character in the league, despite being very insignificant on the actual court. He is known for being one of the league leaders in high fives and is always one of the quickest and most energetic guys off the bench for hand slaps during a TV timeout. So there's that for Chicago.
Known as a hard worker and quality practice squad player, Scalabrine, 32, has averaged 3.3 points a game during his nine seasons.