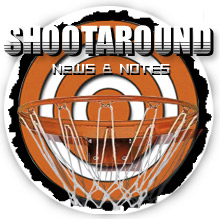 Posted by Royce Young
All 30 teams are getting new jerseys: "The NBA will truck in several stars to deliver its lighter and quicker-drying uniforms in a look that Adidas says will help players run faster, jump higher and stay fresher starting in the 2010-11 season . Dwight Howard, Brook Lopez, Jordan Farmar, Wilson Chandler and Toney Douglas will deliver the limited-edition jerseys from an armored truck parked outside of NBA Store in Manhattan at 11 a.m. ET. The NBA Revolution 30 uniforms are 30% lighter and dry twice as fast, says Travis Blasingame, Adidas' global director of basketball apparel, in an interview with USA TODAY. "
Would you deal Joakim Noah for Carmelo Anthony? Henry Abbott of TrueHoop looks: "Those with knowledge of the talks say the Bulls would love to have Anthony. But the Nuggets want the conversation to begin with Joakim Noah. Word is that a package of Noah and Deng would get the deal done. If that's the case, the Bulls are a turning point in their franchise history, with a tough decision to make."
Jonathan Feigen of the Houston Chronicle: "Daryl Morey's attempts to swing a deal for Carmelo Anthony and to sign Erick Dampier should offer a pretty strong rebuttal to those that flooded the blog with the argument that the move to trade Trevor Ariza for Courtney Lee was just for cost-savings. The Rockets saved $10 million in salary and luxury tax with that move. If they sign Dampier, that would cost $4 million in tax and salary. A deal for Anthony would likely use a chunk of the trade exception, costing about $3.4 million in tax and salary if for Renaldo Balkman or $7.9 million if for Chris Andersen. If the Rockets get their way, they will be spending close to what they would have been spending had they just kept Ariza and stood pat, or more than they were going to spend before the trade. That deal, however, could be a key to a deal for Anthony because that would be how the Rockets can offer the cost-savings the Nuggets demand."
Both the NBA Elite and NBA 2K11 demos are out. I'm not much of a gamer, but it's kind of hard to really tell what the better game is. It's amazing though how detailed these games have become.
Piston Powered asks if Chauncey Billups' nickname is well-deserved: "Billups is certainly a player I wouldn't mind having the ball in the waning moments of a close game. He's a good decision maker, adept at drawing contact, he's not scared of the taking the shot and he doesn't turn it over much. But when he was on the Pistons, the general assumption became, "Billups has to get the ball late in close games." Statistics show that the Pistons had other options on their team — Prince and Hamilton — who were much better bets than Billups to knock down that game winner if it was needed. I love everything about Billups' game. But Mr. Big Shot is a myth."