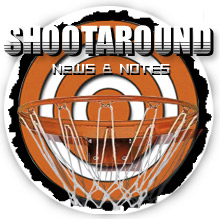 Heat have a block party blocked, Parker may be on the way out, Howard hates the Heat, and the lockout's going to suck, all in today's Shootaround.

Posted by Matt Moore
The Heat had planned this big ol' block party to celebrate the opening of the NBA season in Miami. It was a very exciting idea, and Miami does this sort of thing pretty regularly (Zo's Summer Bash being one relatively similar example). But with the police union organizing to protest the event over budget cuts made to their salaries, and with the immense number of logistical issues involved, the plan is on hold . Allow me to add my name to those who think this is a totally whacko idea. Outside of the sheer intensity of a Friday night party outside the arena and the number of safety and security issues at play here, you've also got a pragmatic issue for the Heat. The Miami Triad will be expected to make an appearance at this event, and that's going to take them away from pre-game preparation for their home opener, against a divisional opponent who they have a pretty good chance of seeing in the playoffs. This is not a game you want to slough off right out of the gate. Definitely check the link for some tasty quotes from the mayor that involve the word "party."
Buck Harvey of the San Antonio Express-News reports that if the Spurs don't look like they'll be contending for a title at the trade deadline, they'll move Tony Parker. Which is kind of a bombshell, in that every public indication from the Spurs has been a steadfast commitment to keeping Parker long-term. But the astounding volume of rumors suggesting his eventual move to New York do have to come somewhere, and can't survive solely on the whims of New York's admittedly powerful (and often nutball) media.
In an interview with Sports Illustrated 's Dan Patrick, Dwight Howard said he'd rather have Kevin Durant than LeBron James. Why is this particularly relevant? Mostly because it's an indicator that a. Kevin Durant is at that level among his peers already and b.) Dwight Howard really, really, really hates all the attention the Heat are getting. We'll have more on this later today.
You know what's amazing? No, not that Andrew Bynum put off surgery which has now affected the odds of him being available for training camp and opening night. No, what's amazing is that writers are surprised by this kind of behavior. Bynum has missed nearly every deadline he's had for the past three seasons in recovering from various injuries. Some of that isn't his fault, the body heals as the body heals, But he's never been known was a hardcore worker, with Tex Winter being a vocal and public critic of his .
David Stern told Gilbert Arenas not to discuss the gun incident that lead to his suspension last year. The bossman says to put it all behind him. Seems like a good idea, but if I'm Stern, I want every reminder presented to Arenas that he needs to walk the line. This is not a man who seems like the kind to learn from past mistakes.
From the Department of Black Kettles, Phil Jackson says "teamwork wins, not talent." Bear in mind this is from the guy who has only won his titles in huge markets playing with the most dominant players of their respective eras, including the greatest of all time. Really, Phil? Because the last time we checked, you're not exactly all about equal parts overcoming the whole. Or maybe that's just what you saw in 2004 when the Pistons took down the mega-Lakers.