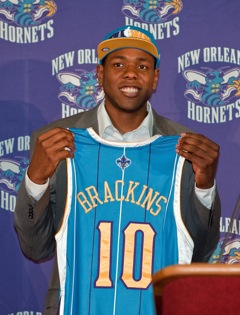 Posted by Royce Young
Craig Brackins
' NBA career is off to a roaring start. Before he's even played a game, he's been traded twice.
Multiple outlets are reporting the
76ers
are dealing
Willie Green
and
Jason Smith
to the
Hornets
for
Darius Songaila
and Brackins. So it's not exactly
Carmelo Anthony
getting traded, but it's
something
, alright?
This is one of those trades that really doesn't require a ton of breaking down, but it's a bit curious from the New Orleans end. The Hornets are trying to move salary, even if it's just a low-level rookie scale contract. They get back a third shooting guard in Willie Green who expires next summer and a seven-foot power forward in Smith who can be expiring next summer. It's not like the Hornets can't use a little reliable shooting guard depth, but as of right now, they traded a first-round pick for a third string shooting guard. Get excited NOLA!
The 76ers get a little young talent in Brackins, a player taken originally by the Oklahoma City
Thunder
before being traded to New Orleans as part of the
Cole Aldrich
draft day deal. He's a power forward/small forward combo that has range out to the 3-point line. He might be able to find a little playing time behind
Andre Iguodala
, but he'll have to beat out
Andres Nocioni
. And Songaila is nothing more than someone to plug inside behind
Elton Brand
and
Thaddeus Young
.
It's pretty clear Dell Demps is set on reworking the entire Hornet roster by putting his stamp on it. He wants to clear a little money off the table and start developing some of that flexibility GMs crave.
Wojnarowski also said
Demps has discussed trading
Peja Stojakovic
with several teams, but nothing so far on that.
This trade isn't really important in really any sense, but it definitely is an indicator that Demps isn't going to sit on his hands. He made a commitment to transform the Hornets' roster and little by little, he's working on it.
Still, Green and Smith for Brackins and Songaila. It's the anti-blockbuster. It's the complete opposite of the looming Carmelo Anthony trade. It's definitely something and somewhere inside of it there's probably
something
important to take from it, but it's definitely hard to see from the surface. Especially on the Hornets' end.