Posted by Royce Young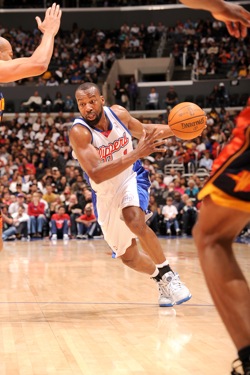 Coming in to last season, there were higher hopes than usual for the Clippers. Top pick Blake Griffin was on the squad and Baron Davis had supposedly gotten in shape and was eager to play. But then Griffin was injured, missed the whole year and Davis stopped caring in January. But this year, they get a do-over. They're next in our Preseason Primer series.

Training camp site:
Los Angeles, CA
Training camp starts:
Sept. 28
Key additions:
Blake Griffin (back from injury),
Ryan Gomes
(free agent), Al Farouq-Aminu (draft)
Key subtractions:
Steve Blake
(free agent),
Travis Outlaw
(free agent),
Drew Gooden
(free agent), Brian Skinner (just kidding)
Likely starting lineup:
Baron Davis, PG;
Eric Gordon
, SG; Ryan Gomes, SF; Blake Griffin, PF;
Chris Kaman
, C
Player to watch:
Blake Griffin. Remember him? Yeah,
this guy?
Supposedly, he's back to his old, dunk-on-your-face self. With a full season already under his belt in which he didn't play, you can bet he's hungry. Griffin is a tremendous talent that's been compared to players like Karl Malone and
Carlos Boozer
. He's going to be ready and he's going to be a monster.
Injury watch:
Well, I guess this is going to be pretty much the same as "Player to watch."
Camp battles:
The Clippers' roster is pretty close to completely set, but if there's one interesting battle to watch it's at small forward. The Clips took Al Farouq-Aminu in the lottery and plan for him to be a small forward scorer. They also signed Ryan Gomes in the offseason. Aminu could potentially beat out Gomes for the starting spot, especially because the Clippers have an eye toward the future right now. More than likely Gomes has the job, but if you're looking for a position competition to watch, that's the one.
Biggest strength:
Starting five. On paper, as Rodney Stuckey would say, it doesn't look that bad. Baron Davis, Eric Gordon (who was fantastic in Turkey), Gomes/Aminu, Griffin and All-Star Chris Kaman. That's a pretty quality unit right there. They probably lack that go-to scorer, but there's enough divvied up among Davis, Kaman, Gordon and Griffin that the Clips should be able to put the ball in the basket.
Glaring weakness:
Defense, experience and depth. Last season, the Clippers ranked near the bottom of the league in defensive efficiency (22nd). (They actually ranked lower in offensive efficiency, but I'm banking on that improving with Griffin.) Baron Davis has never been a great defender and Kaman is a score-first center.
They're extremely young with Griffin, Gordon, Aminu, backup point guard
Eric Bledsoe
and
DeAndre Jordan
. So this group is youthful.
As for depth, DeAndre Jordan is their backup 5 at this moment. So yeah, that's not good. And there's no one behind him. If Kaman gets in foul trouble of has an injury, DeAndre Jordan is seeing big time minutes. Again, not good.