Posted by Royce Young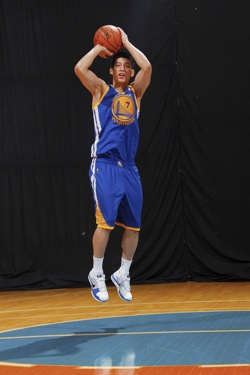 The
Warriors
will be under new leadership once the season starts, but it's going to be the same group running training camp. This is a new-look team with a number of fresh faces, but the core backcourt remains and looks to grow another year together. Can the Warriors begin a climb back to respectibility? It'll all start in training camp for them and it'll also require a number of issue to get sorted out.
Training camp site:
Oakland, CA
Training camp starts:
Sept. 28
Key additions:
Dorell Wright
(free agent),
David Lee
(sign and trade),
Jeremy Lin
(draft),
Ekpe Udoh
(draft),
Louis Amundson
(free agent),
Rodney Carney
(free agent)
Key subtractions: Anthony Randolph (trade),
C.J. Watson
(free agent),
Corey Maggette
(trade),
Anthony Morrow
(free agent)
Likely starting lineup:
Stephen Curry
, PG;
Monta Ellis
, SG; Dorell Wright, SF; David Lee, PF;
Andris Biedrins
, C
Player to watch:
Jeremy Lin. For whatever reason, Lin has already become a cult basketball star. He's the Harvard grad who blew people away with his summer league fearlessness and ability. He got a
guaranteed
contract from the Warriors and is already becoming one of the faces of the team and probably the fan favorite. Everyone has him dubbed a sleeper and a ready-made scorer that's going to make an impact.
Did I mention he hasn't played a game yet? While Lin was impressive during the summer, he's still an unknown. Right now he's third on the depth chart behind
Charlie Bell
for backup point guard duties, so he's got to work to earn time on the floor as well.
Chemistry quiz:
The Curry-Ellis experiment enters year two, with both guys desperate to have the ball in their hands. In the Don Nelson system, shots are there for pretty much anyone who's willing to take them, but a constant battle over who controls the ball is something the Warriors hope to avoid. It can upset not just on-court chemistry, but also off-court unity as well.
The real chemistry question is what's happening upstairs. Once ownership of the team is transferred, will the Warriors still be under the same direction of Nelson, or will they be scrambling to make a switch to Keith Smart (or someone else) right before the season?
Camp battles:
Who's backing up David Lee at power forward? Ekpe Udoh was hurt this summer with a wrist injury, but is he ready to find rotation time in front of
Brandan Wright
? Wright has always seemed to find himself in Nelson's dog house, but with Udoh's setback, Wright may get his chances.

Injury issues:
David Lee hurt his hand during Team USA's training camp but is supposed to be healthy for the Warriors camp.
Biggest strength:
Speed. Everyone knows the Warriors can score. Their points per game is often a bit deceiving because in terms of offensive efficiency, they're typically in the middle to lower half of the league. But this Warrior team has a bunch of skill around the ball. Curry is a gifted passer and shooter. Ellis goes end to end in a blur. David Lee runs the floor exceptionally well for a big man. And there are hyper-athletic guys waiting on the pine like Udoh, Wright and Lou Amundson.
Glaring weakness:
Should I just say "defense" and leave it at that. Or do I really need to explain why the Warriors are bad defensively and therefore, that's a weakness? Let's just leave it at that.