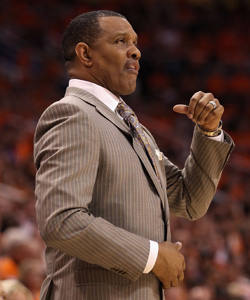 Suns extend head coach after return to playoffs despite roster turnover.
Posted by Matt Moore

The fast break will continue in Phoenix. The Suns
today announced
an extension for head coach Alvin Gentry. The Suns under Gentry improved considerably, returning to their running and gunning ways on the path to the Western Conference Finals. Despite the departure of
Amar'e Stoudemire
in free agency and the looming issue of
Steve Nash
's age, the Suns felt that Gentry's the guy, and extended him through 2012-2013.
The Suns are 72-41 under Gentry, which ain't too bad at all, especially given the dismal performance they suffered under head coach Terry Porter in their attempt to become more traditional in their approach. With the economy still sluggishly working its way out of the doldrums, extending Gentry is a wise move from owner Robert Sarver. Committing to Gentry may mean more money on salary, but it also means stability and a tried and true formula that may suffer from problems (eventually) in the playoffs, but does win lots and lots of games. Gentry also managed to make the most convincing case for a running team to be able to buckle down and play hard-nosed defense.
The deal may have been done sooner had the replacement GM and President of Basketball Ops jobs not taken so long to fill, before eventually Lon Babby and Lance Blanks were brought on board.