Posted by Royce Young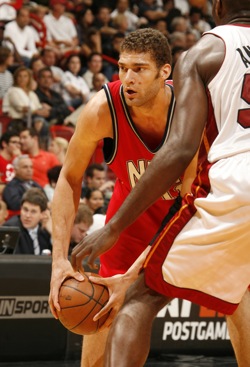 The
Nets
made moves this offseason, including a change in ownership and front office personell. And they're also a major player in the Carmelo sweepstakes. So all of this could be moot within the week. But as of now, they aren't the team that flirted with the worst record ever anymore. They're improved and they have a shot to actually be mediocre this year.
Training camp site:
Newark, NJ
Training camp starts:
Sept. 28
Key additions:
Travis Outlaw
(free agent),
Troy Murphy
(trade),
Derrick Favors
(draft),
Jordan Farmar
(free agent),
Anthony Morrow
(free agent)
Key subtractions:
Yi Jianlian
(free agent),
Courtney Lee
(trade),
Chris Douglas-Roberts
(free agent)
Likely starting lineup:
Devin Harris
, PG;
Terrence Williams
, SG; Travis Outlaw, SF; Troy Murphy, PF;
Brook Lopez
, C
Player to watch:
Derrick Favors. The young big man is as physically gifted as any player that's come into the league we've seen. He's been compared to
Dwight Howard
when Howard entered the league as a rookie, and the comparison is fairly accurate. Favors is built like a rock, has insane athletic ability and his job will be to develop some semblance of a post game or potentially some pick-and-roll ability.
Chemistry quiz:
With all the Carmelo trade talk, you have to wonder if that's had any affect on the names that have been mentioned. More than likely, they've tuned it all out, but as excited as Troy Murphy was to land on his childhood favorite team, it's got to be a bit of a shadow hanging over him wondering if he'll be dealt to Denver at any moment.
Camp battles:
Can Anthony Morrow push Terrence Williams for the starting 2-guard spot? To answer my own question because that's why I asked it, yes, he can. Morrow is a great shooter, while Williams is more of a slasher. But depending on how Harris plays this season with Williams, Morrow could be a better fit.
Biggest strength:
The Nets will be big and strong on the inside. Brook Lopez, Troy Murphy and Derrick Favors all combine to give New Jersey an imposing front line that's athletic, versatile and most importantly, very large.
Glaring weakness:
Scoring. After
Vince Carter
's depature, the Nets haven't been able to find a consistent 20 point a game guy. Devin Harris is a nice scoring point guard, Terrence Williams has potential, Travis Outlaw is an okay talent and Brook Lopez and Murphy get some, but not a ton of points on the inside. The Nets really need a scorer that can be relied on when things get tough in a close game. Who that could be, I don't know. Seriously, nobody comes to mind right now. I'm thinking, I'm thinking... yep, nothing.