Posted by Matt Moore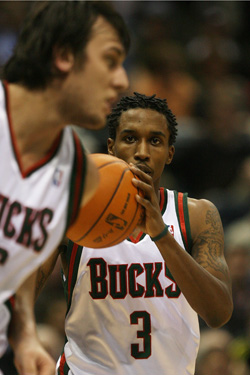 Fear the Deer. It became the meme of the NBA last season, and you were hard-pressed to find a hardcore NBA-head who didn't love the scrappy team from Milwaukee. Heading into training camp things are dramatically different. Andrew Bogut is recovering from injury again, but outside of that, the stakes are much higher. The Bucks were the fifth seed in the East and had it not been for Bogut's injury likely would have bested the Hawks. Now they need to somehow improve on last year's performance in an Eastern Conference which is loaded at every turn. What do they have to do in training camp to get that done? We'll let you in on the secrets as we continue our Preseason Primers.
Training camp site:
Milwaukee, WI />
Training camp starts:
September 28th
Key additions:
Corey Maggette
(trade),
Drew Gooden
(free agency),
Larry Sanders
(draft),
Chris Douglas-Roberts
(trade)
Key subtractions:
Charlie Bell
(trade),
Luke Ridnour
(free agency),
Dan Gadzuric
(trade)
Likely starting lineup:
Brandon Jennings
(PG),
John Salmons
(SG), Corey Maggette (SF), Drew Gooden (PF), Andrew Bogut (C)
Player to watch:
Chris Douglas-Roberts. Okay, this is a lie. If Brandon Jennings is involved in any way, you watch him. But CDR's not a bad backup option, literally. With the Bucks needing a legit backup shooting guard, CDR has a chance to capitalize on his combination of handle and size if he can develop into a well-rounded player that commits to Scott Skiles' system. CDR is also highly explosive and can go off at any time, so how he reacts to Skiles' military approach may be the defining verdict on his career if things go sour.
Chemistry quiz:
The Bucks worked really well together last year and embraced Jennings as a leader. The question will be how players like Drew Gooden, CDR, and Corey Maggette do in a system that asks them sacrifice and play defense consistently. The team struggled offensively last year, but a perk of that was a lack of ego-centric players who weren't looking for their shot. As delicate as chemistry is, the changes the Bucks brought in could create too many guys looking for FGAs.
Camp battles:
Carlos Delfino
versus Corey Maggette should be a great one. Maggette had a fantastic season last year and is a better overall player than Maggette. But Maggette has the contract and offensive firepower to demand a starting spot. Skiles abandoned Delfino in the playoffs when he wasn't in a good matchup. There's no telling how this one will wind up, but Delfino's play in FIBA this summer certainly is cause for excitement.

Injury issues:
I think the fact that reports have come out daily about Andrew Bogut's elbow is probably indicative he's a concern. That and the fact that he had more metal put in than that chick in Fringe with they cybernetic arm. That too.
Biggest strength:
Simplicity. The Bucks don't over-complicate things. They defend like rabid animals, run basic offensive sets geared to give playmakers the ball in space, and work their tail off. It's an optimal system not only for a standard of success, anchored by a talented point guard and center, but easy for new pieces to fit in. Skiles continues to impress as a coach that is able to get through to guys and convince them to commit.
Glaring weakness:
They added multiple offensive weapons, but there are going to be concerns with the age of both Maggette and Gooden, as well as how Brandon Jennings fits with all these high-usage players on board. That same simplicity also creates problems when they hit a team with a counter to their approach.