Posted by Royce Young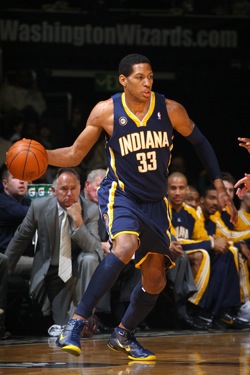 The
Pacers
were part of the deal of the summer, a four-team trade that landed them
Darren Collison
and
James Posey
. They still acknowledge they're rebuilding, but now, it feels like a corner might start turning. They're still missing pieces and have questions headed to camp, but for the first time in a while, a plan looks evident.


Training camp site:
Indianapolis, IN
Training camp starts:
Sept. 28
Key additions:
Darren Collison (trade),
Lance Stephenson
(draft),
Paul George
(draft), James Posey (trade)
Key subtractions:
Troy Murphy
(trade), Earl Watson (free agent)
Likely starting lineup:
Darren Collison, PG;
Mike Dunleavy
, SG;
Danny Granger
, SF;
Josh McRoberts
, PF;
Roy Hibbert
, C
Player to watch:
To be determined power forward. Right now, the Pacers have Josh McRoberts starting at the 4. I think it's safe to assume Larry Bird has plans to make a move to have someone new there.
Tyler Hansbrough
is also in the mix but he's battling a condition that's hampering his ability to get on the floor.
Chemistry quiz:
Any time you add a new point guard to the mix, questions come up about how the team will play together. Darren Collison isn't a complicated guard. He's pretty straightforward in the way he plays and the way he carries himself. He shouldn't have any issues fitting in to Jim O'Brien's system.
Camp battles:
Two positions: The aforementioned power forward situation and also shooting guard. Is it Mike Dunleavy? Brandon Rush?
Dahntay Jones
? Rookie Lance Stephenson? Could lottery rookie Paul George slide down and play the 2? The Pacers have a number of rotation questions coming in and in both cases, might not have the player to fill them actually on the roster.
Handcuffed:
The Pacers were a team that fought the law a bit this offseason.
Brandon Rush
was tagged with a five-game suspension for a drug violation and Lance Stephenson was accused of pushing his girlfriend down some stairs. So you can definitely assume there are some distractions and questions to be asked on media day.

Camp invites:
A couple of interest include
Magnum Rolle
, a second-round pick and Lance Allred, the first deaf player to play in the NBA.
Biggest strength:
3-point shooting. One of O'Brien's staples is to create the 3-point shot. Now with Collison creating space for shooters, guys like Danny Granger, Mike Dunleavy, Brandon Rush and James Posey will have the ability to crank up a number of 3s.
Glaring weakness:
Roster holes. Again, who plays power forward? Who plays shooting guard? The Pacers took a big step in correcting a roster issue by acquiring Collison, but the trade sent power forward Troy Murphy elsewhere. Indiana isn't done making moves and it plans on improving the lineup, at this point, those guys aren't on the team.