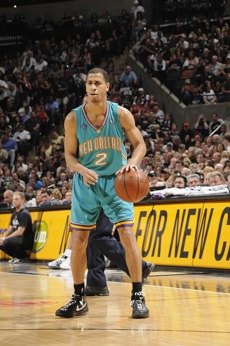 Posted by Royce Young
There's no issue in New Orleans over who the starting point guard is. That problem got sorted out this summer. But as far as who will be backing up
Chris Paul
? Whoa boy.
Marc J. Spears of Yahoo! reported late Friday
that the
Hornets
will sign guard Jannero Pargo to a one-year, minimum veteran deal. This is a day after completing a curious trade for guard
Willie Green
that general manager Dell Demps justified by saying Green could potentially back up Paul.
And this is after signing former D-Leaguer
Mustafa Shakur
to a non-guaranteed deal to potentially win the position in training camp. Oh, and don't forget point guard
D.J. Strawberry
will also be in Hornets camp trying to win that backup spot as well.
Pargo previously nearly reached a deal with thw
Warriors
earlier this summer, but concerns over a scoped knee hung up the signing, eventually causing the Warriors to back out. Pargo has already had one stint with the Hornets, backing up Paul from 2006-2008 before going to Chicago for a season. Pargo spent last year playing overseas.
Pargo is an instant offense point guard that can either make you want to throw a brick through your television or can help you win a game. He gets in ruts where he looks for his own all the time, but there are other times he looks flat brilliant. For his career, the 30-year-old is averaging 6.6 ppg and 2.0 apg.
The backup position isn't settled in New Orleans now as training camp will eventually decide who gets the job of backing up Chris Paul. But Pargo likely has the edge, seeing as he's already got experience doing it.