Posted by Royce Young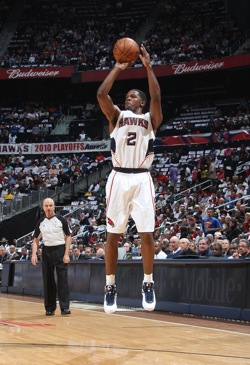 The
Hawks
made news by inking
Joe Johnson
to a superstar contract when many thought Johnson wasn't worth it. But it was either that or let him walk to a team that would give it to him. Atlanta didn't do much else and plans on the development of its young core to keep coming along. But the East may be passing them by. The Hawks are pretty much set heading to camp but still, the young faces might be able to push some of the older ones.
Training camp site:
Atlanta, GA
Training camp starts:
Sept. 28
Key additions:
Josh Powell
(free agent),
Jordan Crawford
(draft)
Key subtractions:
Mike Woodson (fired)
Likely starting lineup:
Mike Bibby
, PG; Joe Johnson, SG;
Marvin Williams
, SF;
Josh Smith
, PF,
Al Horford
, C
Player to watch:
Any time a player gets paid, they immediately become someone to watch. And Joe Johnson got
paid
this summer. Most questioned the deal for Johnson, wondering if he was really worth the max money he was given. And now without the incentive of working for that contract left, all he has is the motivation he's got left is proving the doubters wrong. And winning games, of course.
Chemistry quiz:
Jamal Crawford
caused a bit of a stir asking for a pay-me-or-trade-me type of thing this summer. And coming into camp, that'll surely be a situation that hangs over a bit. But more than anything, the biggest question for the Hawks is if this team is ready to start moving ahead. Can they hang together now that players are getting big money, some are asking for money and a guy like Al Horford is waiting for his ship to come in. The Hawks were the up-and-comers a few years ago, now they better start moving ahead before contracts and disease of more stops everything in its tracks.
Camp battles:
The Hawks are pretty much set across the board. The one battle that could be interesting later on is if Jeff Teague can push Mike Bibby at some point. This camp could be a big step in Teague showing he might be ready at some point.
Biggest strength:
Length, athleticism and speed. Atlanta's starting five is as physically gifted as just about any group out there. Between Marvin Williams, Josh Smith and Al Horford, the team has talent out the wazoo. Johnson anchors the scoring and Horford is the steady inside presence. Atlanta may be missing
something
in the first five, but it's not much.
Glaring weakness:
Depth. To be specific, depth on the inside. Jamal Crawford provides the scoring off the bench, Teague spells Bibby well (though Bibby may be on the way out) and
Maurice Evans
is a quality enough backup to Williams. But Josh Powell,
Jason Collins
and
Zaza Pachulia
may not be a strong enough secondary front line to battle
Dwight Howard
,
Kevin Garnett
or
Chris Bosh
in the East.