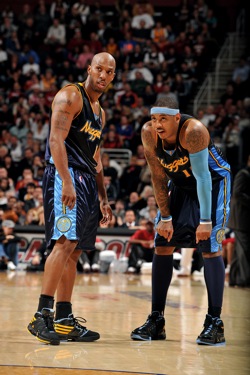 Posted by Royce Young
Chauncey Billups
is 34 years old. He's entering his 14th season in the league. He's won two NBA titles, a gold medal in the World Championships and has been Finals MVP. He only knows winning. And he only wants to play for a winner.
As Adrian Wojnarowski of Yahoo! pointed out,
Billups prefers to win over staying in his hometown. "I want to be playing for something," Billups said in Turkey.
And if the de-construction of the
Nuggets
happens soon and Carmelo Anthony is moved, Billups might be left walking to the front office, hat in hand, and asking for a way out as well.
Wojnarowski also mention in a report he filed Sunday
that everyone on the Nuggets' roster is on the block, sans
Ty Lawson
and Billups. And while Denver might not be willing to deal Billups now, if a complete rebuilding project is underway, Billups doesn't sound like he's wanting to hang around for that.
J.R. Smith
was tossed around in a few trade rumors earlier this summer and a player like
Kenyon Martin
is an attractive trade piece. Productive player, big contract and one that's up after this season.
Some of the deals proposed to Denver thus far give them a chance to stay competitive while also rebuilding. The original mega-four-team deal that brought the Nuggets
Derrick Favors
and
Andrei Kirilenko
wouldn't put Denver in complete rebuilding mode. They probably wouldn't be quite as good, but with Nene, Kenyon Martin,
Chris Andersen
, Lawson, Smith and Billups, a nice roster is still intact.
But start trading off pieces and acquiring expiring contracts and assets and some of the older players might not be willing to hang in for that. Billups has two years left on his current contract, but that doesn't mean he'll be in Denver for two more years. For one, 2011-12 is non-guaranteed.
If Carmelo can be convinced to stay Billups would likely finish his career in Denver. It's where he was born, where he grew up, where he went to school and somewhere he really likes playing now. But hometown loyalty only runs so far for an aging veteran.
Granted, he might be stuck there this year, but come next season when he's a valuable expiring deal? Billups would likely ship out looking for one last hurrah instead of guiding a batch of restructuring youngsters in the Rockies.