As the Carmelo Anthony situation continues to unfold (or not, depending on your view), we'll keep you up to date on the developments with our MeloDrama Updates. Buckle up, kids. The Hello-Melo Train is leaving the station.
Posted by Matt Moore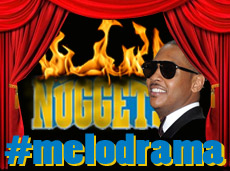 Here's the latest around the web as what is considered D-Day for the
Nuggets
approaches.
Our own Ken Berger reports that Anthony may not be in attendance today for Media Day. That's a scenario described by a source as one that will set the Nuggets into "disaster mode." Marc Stein folllows with word that even if Melo is in attendance, he may not talk to the media . That would allow him to send a message to the Nuggets without getting fined, which would happen in force if he were to "hold out" from training camp. The league responds quickly and strongly when players go that route. KB says he predicts Melo will arrive for media day as long as he's a Nugget. He's been careful to avoid things that could damage his public image.
Talks with Golden State are "going nowhere " according to Marc Stein. Woj reports that the four-team discussed last Friday has gained some momentum . A lot of this may be various pieces waiting to see if anyone breaks and offers more. For example, New Jersey waiting for Charlotte to break and offer Augustin, or Denver hoping someone else comes in with a huge offer. Everyone wants to "win" the trade naturally, which is what makes these things more complicated than sometimes they need to be.
NBA FanHouse's Sam Amick reports that former Nets talked to Carmelo over the weekend and said that Newark is a long ways away from New York, essentially warning him off of Jersey . Jason Kidd was among those that conveyed that message, which just seems cruel, if honest. Amick says that New York is just giddy about this development.
This whole thing has to be excruciating for teams trying to drag Anthony out of Denver due to Denver's considerable leverage. They've got the new CBA working against Melo, their rights to him, and a lack of albatross contracts that they have to ditch. They clear considerable space this summer with Kenyon Martin coming off the books. In short, their biggest concern is how this could impact ticket sales and set back their progress. But then again, if they trade Melo, they're likely looking at a rebuilding process regardless. That might include Chauncey Billups.
The looming man behind the curtain, William Wesley, who Ken Berger reported was behind these talks in the first place, has also visited with Jay-Z in New Jersey according to KB. That's a pretty clear indication of the split going on. Then again, Wesley was eventually removed from the discussion of LeBron James, and you have to wonder if he'll be similarly cut out because Melo wants to wait for New York or Chicago, via free agency or trade. There's also a lot of talk about Chris Paul eventually being involved in forming a new Big 3 wherever Melo goes, with Amar'e Stoudemire being swapped out for Brook Lopez if he winds up in Brooklyn.
We'll keep you updated as the Melo-drama continues. Somebody get the man a pink wig.