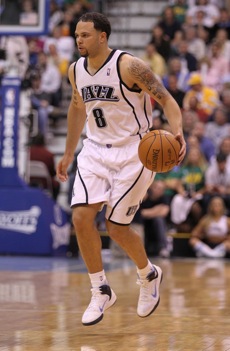 Posted by Royce Young
Sometimes
, what makes a good player great is his point guard. And really, isn't that the job of a good point guard? To make everyone better?

Steve Nash definitely did it with Amar'e Stoudemire and Shawn Marion. Chris Paul did it with Tyson Chandler and is doing it with David West. And Deron Williams did it with Carlos Boozer.

Now Williams has a new project. And he said he intends to turn new big man Al Jefferson into an All-Star. Jefferson, in an interview with the Salt Lake Tribune, said:

"D Williams is Batman. He's Batman. He's the captain. He's the guy, you know. And I'm Robin. So I'm willing to do whatever. I'm not worried about jelling with him. I'm going to adjust to him. Whatever he needs me to do is going to be done. Because the first thing he said to me when I talked to him is, 'I'm going to make you an All-Star.' And when he said that to me, I believed him. He wasn't just talking. He wasn't just saying it because it sounded good. He really means that. And I'm not going to do nothing to mess that up. Whatever he wants me to do. I know he told me one thing, he was joking. He said I don't really dunk a lot in the games. And so [he said], 'If I throw you a sweet pass, you're going to have to dunk it.' And if he wants me to start dunking, I'll dunk it."

There's absolutely no doubt that's possible. A lot of making the All-Star team is how your actual team is doing. And the Jazz should be pretty good. Jefferson was in Minnesota on sub-20-win teams, playing mostly in obscurity. He's always had nice numbers and that was with Randy Foye, Jonny Flynn, Ramon Sessions and Sebastian Telfair setting him up. No disrespect to those guys, but they sure as heck aren't Deron Williams.

Health has always been the main hurdle for Jefferson. If he gets that and adds it to the fact he has an elite point guard dishing him the ball, he very well could be headed for an All-Star caliber year. The West is relatively thin with premier centers. Jefferson could establish himself at the top of the pile.