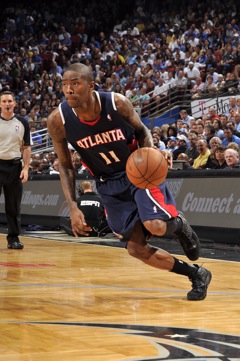 Posted by Royce Young
This trade demand hasn't quite captivated the NBA world quite like that one in Denver has. But nonetheless,
Jamal Crawford
made his wishes clear to the
Hawks
' front office. Pay me, or trade me somewhere that will.
But just like
Carmelo Anthony
, Crawford was in attendance in Atlanta and was all smiles for media day. He was there with a purpose: to set everything straight.
"I wasn't close to not coming or anything but it was hard to get on that plane and come here," Crawford told the media in Atlanta. "It really was. Because I'm in a weird space. I waited 10 years to get here, helping my team to one of the best home records in the league, snagging home court advantage and making the playoffs for the first time while helping the team to one of the best records in franchise history. It's hard to be a part of all that and then feel like you are not a part of the future. But I'm a professional. And I need to make this clear, I want to be here, I want to be an Atlanta Hawk. If I'm not a part of the plan going forward, then that's a conversation we need to have later."
Teams have made calls about Crawford's availability with
Sekou Smith of NBA.com reporting
that two clubs made "serious" inquiries. The Hawks rebuffed both requests.
Crawford is heading into the final year of his contract and will earn $11.1 million this season. But with a new Collective Bargaining Agreement ahead, Crawford and his representation are wanting to get paid before the potential lockout hits. Crawford's side hasn't been adamant with the trade demands. They've simply asked that Crawford be extended, or at least explore options for a trade so someone else can pay him if the Hawks won't.
The big hangup for the Hawks right now on offering the extension is that they paid
Joe Johnson
a ridiculous amount of money this summer and they're also working on
Al Horford
's extension. So Crawford has been pushed down the line a bit. But that doesn't mean he's willing to back off his original feelings. He still wants that extension before next July.
Smith said that new head coach Larry Drew didn't speak on the topic much, but did say Crawford has been handling the situation like a "pro."
And Crawford's words Monday backed all that up. He said he'll always be professional and that he doesn't want to be a problem or distraction. He called the situation "weird" and then went on to say, "You talk about your core pieces and the future and I just want to be a part of that. I want to be here in Atlanta. I love playing here with these guys and for these fans. I'm still hopeful that something works out, but obviously I don't control this situation … but I have said all along that this is where I want to be."
One stipulation though, Atlanta - you've got to pay him first.