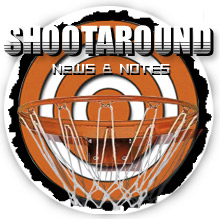 Davis is a baby, Brooks wants his dough, Garnett's feeling spry, and Hayward bought a new car in today's Shootaround.
Posted by Matt Moore
The only exception to the "rah-rah," "happy to be back," "excited for the season to start" mantras of NBA Media Days and training camp sessions is the public extension demands.
Aaron Brooks
has entered that arena in full garb. Brooks told the
Houston Chronicle
that his
contract situation is "bothering" him
. Brooks is a tough spot for the
Rockets
. He's emerged as one of the best players on the team, and helped keep them afloat through
Yao Ming
's injury. But he's also a score-first point guard who's not terribly efficient. He gets the job done, but not well enough to make it a no-brainer. Which is likely why the Rockets have decided to wait to enter discussions on an extension with him.
Donnie Walsh denied that the
Knicks
tampered in any way with the now-dead four-team deal
proposal for
Carmelo Anthony
. Very quietly, the Knicks and
Nets
are kind of slipping into a nasty little rivalry between the two teams, one that's likely to only accelerate when the Nets move to Brooklyn.
Charlie Villanueva
is actually
wracked by guilt
about his performance last season. It's nice to hear that from an athlete, as they typically tend to bristle and deny that they even had a bad year, or explain it away. The question is how he'll actually improve, because the things he's typically criticized for are difficult to improve upon, often considered "you have it or you don't" territory. But stranger things have happened...
Apparently
Kevin Garnett
is feeling spry, prompting Boston
media to claim he'll be back to 2008 standards
. I would consider this to fall under the category of "jinxing yourself into oblivion." Garnett was healthy enough for the
Celtics
to win the East. That needs to be the expectation. Anything else is failing to acknowledge the realities of the situation.
Jacque Vaughn has joined the
Spurs
coaching staff, and
Pop thinks he's got the same qualities
as Avery Johnson. The comparisons are striking to a certain degree.
Efforts for a new arena
in Sacramento have hit a gigantic iron wall. Keep your eyes on the horizon for storm clouds.
Triano has
no reservations about playing
Barbosa at point. That's a weird thing to be discussing with both Jarret Jack and
Jose Calderon
on roster, making a combined eleventy billion dollars. Additionally, that seems an awful lot like a recipe for the highest turnover margin in professional basketball history.
Glen Davis
is
acting like a... wait for it... baby
about his role with the Celtics and Doc's not particularly drawn to take care of him.
Rashard Lewis
is
spending more time at small forward
this year. That's a pretty big move, and one that could have significant changes for how the
Magic
do business. The trick is that the Magic have had so much success with Lewis at the four, and a move otherwise could change their four-out, one-in approach. But it could also provide them more balance. Things are so complex.
Gordon Hayward
bought a shiny new car
with his contract... a Honda Accord. That's just great.