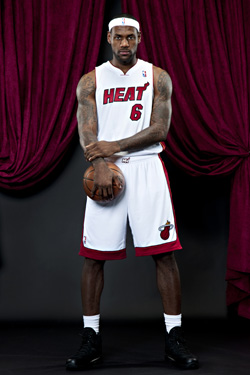 James is skeptical that he can average a triple-double, won't actively pursue it.
Posted by Matt Moore
In the 1961-1962 season, Oscar Robertson averaged 30.8 points, 12.5 rebounds, and 11.4 assists. It was the first and last time a player averaged a triple double in an NBA season. But when
LeBron James
took his talents to South Beach and his scoring load immediately decreased and his support capacity increased, the questions began. Could LeBron average a triple double in Miami?
Apparently, it's a question James has asked himself. The
Miami Herald asked James and his teammates about it
and the responses revealed it's not out of the question in their eyes. James admitted he was "intrigued" by the idea, but said he doesn't think Robertson's season will ever be matched, and added that it's not his goal. (Naturally his goal is to help his teammates, blah, blah, blah, give 110% and all that
Jazz
.)
James averaged 29.7 points, 7.3 rebounds, and 8.6 assists last season. When you factor in the predicted considerably higher team FG% he'll be dishing to, and the fact that he should have a larger rebounding load (
Chris Bosh
isn't exactly
Dwight Howard
and they lack a top-tier center), this thing is within reach, or as
Mike Miller
put it, "doable." And it's hard to argue that James taking on that kind of load in production would be a bad thing. It would be getting the best player in the best position to contribute. It's unlikely James would let the goal distract him down the stretch if it was close, after all, he chose to sit out the remaining games last season instead of pursuing the scoring record.
James hitting a historic mark will likely only intensify the polar opposites of his public reputation. Those that think he's a selfish deferrer (which is quite the oxymoron, and yet his critics hold steadfast to that stamp) will say he's obsessed with stats and not rings, while his supporters will claim this puts him among the league's all-time greats, despite that obviously not being true without the aformentioned rings.
It's pretty stunning that a player could be on the verge of averaging a triple double and yet it will do nothing to improve his standing. "The Decision" continues to haunt.