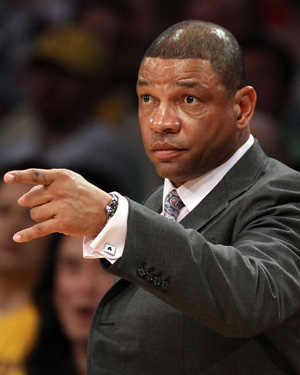 Celtics coach not thrilled with C's condition, looking to compete consistently throughout the season.Posted by Matt Moore
The Celtics know the score. They know what they're doing. They know how to win titles. They have experience. They don't need practice. We're talking about practice. Okay, bad example. But training camp means very little to a team that really couldn't care less until the flowers are blooming in April. But apparently, there is a floor the Celtics shouldn't drop to, and according to Doc Rivers, they're flirting with it.
Rivers wasn't exactly blooming with pride over his older club's condition. From the
Boston Globe
:
"...I think that we're not in great shape personally. I don't think that we've come back in the condition that we want. So we're going to have to come back in better shape."
This goes in tandem with other comments he made in reference to the Celtics' late-late-late last second surge last season. In essence, they lost the championship because Game 7 was on the road. Game 7 was on the road because they weren't in a position to get those wins mid-season. From the
Boston Herald
:
"What we did last year was play Game 7 on the road," Rivers said. "If Game 7 was in Boston Garden it would have been very different. So that was on us. Last year was out of necessity. It wasn't planned. It was planned if we had the injuries, then we had to make a tough call to start resting guys in the middle of the season. I hope as coach I don't have to make that call this year."
Doc is not messing around.
What this could mean is a Celtics team that coasts less during the late winter months, a period in which the Celtics admitted they were "bored" last year. The competition is higher this year, with the
Bulls
,
Knicks
, and, you may have heard,
Heat
all improved considerably. As a result, Rivers likely wants to have his team back in 2008 form, seeking to destroy each and every team on the schedule. That's the kind of effort it may take this season. Rolling through Christmas and coasting through March should be a strategy of last restort, not the prototype. For all the talk of how the Celtics don't care or worry about the regular season, the C's late season swoon obviously took its toll on Rivers, who very nearly failed to return this season.
So now we get to see what kind of C's are ready for the regular season. Because it would appear that they did not dedicate themselves physically to another run over the summer. This is the time for that. The window is closing on the Celtics. If they want to toss a brick in the frame to prop it open, they're going to need to toss the pounds and work to be in the best condition they can be. The stakes are higher, now.