Posted by Royce Young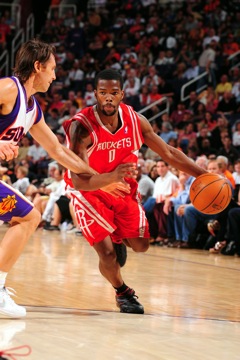 It's getting to the point where if you're not set up with a pretty extension before next season's new Collective Bargaining Agreement, you're required to be unhappy.
Plenty of players have already made a small stink about their situation and you can add another to it in
Aaron Brooks
. He told Houston media that his contract extension something that's definitely weighing on him.
"It's kind of stressful," Brooks told Jonathan Feigan of the Houston Chronicle. "I was hoping we maybe could get something done this summer, but we couldn't, so I'm stuck in the position I'm in. I understand, but it's bothering me. It's the business of basketball. You have to take it like it is. I'm stuck with that."
Asked if he felt he deserves a contract extension, Brooks said, "Oh, no doubt. I deserve at least discussions."
But there's a problem for Brooks. He's not ever going to get that extension in Houston before his deal is up. It's team policy.
The
Rockets
customarily don't consider negotiating contract extensions, other than for players still under their rookie contracts. They will pick up their options on the contracts of
Courtney Lee
,
Chase Budinger
and
Jermaine Taylor
later this month, waiting - as is their policy - for the deadline.
"We're not doing extensions," Morey told the paper. "Quite a few guys on the team are up for extensions. Just policy-wise, we're not doing it."
As for why, who knows. Team policy, you know. Morey says it's to keep the team as flexible as possible, but is it worth that to potentially upset players and cause some unrest going into the season? Players playing while thinking about money is always quite the distraction. And that could be avoided by paying them. But again, team policy.
(An interesting aside noted in the report: Did you know
Kevin Durant
is the only player from the 2007 draft that received an extension off his rookie contract so far? Obviously for good reason but players like
Jeff Green
, Brooks and
Greg Oden
haven't landed that second big payday yet. I found that interesting.)
The last player the Rockets extended was
Tracy McGrady
in 2004 and well, we know how that finished up. McGrady got hurt every 10 seconds and in the end, the most valuable thing that came from his extension was the fact he was able to be traded last season for valuable assets. So maybe the Rockets saw themselves get burned once and said never again.
Brooks is clearly worth an extension. He's a top 10 point guard in the West and won Most Improved last season. But that doesn't mean the Rockets will pay him. Morey has his ways and as one of the brightest GMs in the league, it's hard to doubt him. Doesn't mean Brooks will be playing this season with a bit of a chip on his shoulder. Maybe that's part of the motivation from the Rockets by not giving it. By not paying them now, they've got to keep earning that next contract. But I'm just guessing there.