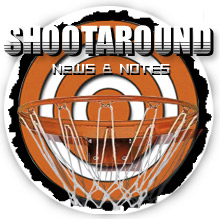 Posted by Royce Young
Dwight Howard has a children's CD coming out. The album is called "Shoot for the Stars" and some of the tracks on it include: "Whoop There It Is," "U Can't Touch This," "Banana Boat" and "ABC." I smell Grammy.
The trade rumors aren't bothering AK-47: "First of all, there's not much I can do," Kirilenko told the Deseret News. "Secondary, I don't really care what the people (are) thinking. My job is to play basketball, and it's as simple as that ... I don't really care about rumors," Kirilenko added. "I spoke with (Jazz general manager) Kevin (O'Connor) and Jerry (Sloan), and they said, 'Look, we don't have any intentions' ... So, I'd rather believe them than the rumors."
Tom Moore of PhillyBurbs.com: "At Doug Collins' request, Reggie Miller delivered a message to the 76ers on the second day of training camp Wednesday. As the NBA's all-time leader in made 3-pointers (2,560) and one of the best clutch shooters in league history before retiring in 2005, Miller would seem to have plenty of cache with today's players because of his on-court accomplishments. And he more than held their attention as he talked and demonstrated what he was saying, according to those in the gym at the time."
Jeff Pearlman of SI writes that he wants his kids to watch Eddy Curry so they won't be like him: "That's why, as Curry collects $11.3 million for sitting on the bench this season, I'll tell my kids all about him. "See that guy," I'll say. "The one in street clothes eating the hoagie. His name is Eddy Curry. He's young, he was wealthy, he's gifted -- and he's invisible."