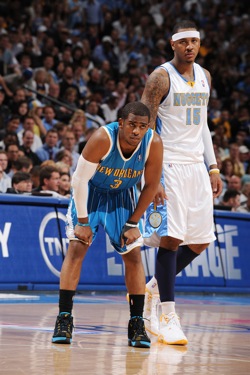 Posted by Royce Young
Chris Paul
already spent his time under the burning spotlight of speculation and rumor. He knows what that's like. But he made a commitment to stay in New Orleans (for now) and he intends to try and build a winner.
That doesn't mean he wants to build a winner by himself though. As
one source told Marc Stein of ESPN.com,
Paul sent word to
Carmelo Anthony
about teaming up together in New Orleans.
Stein spoke with Paul for a nice big feature and that was a topic that CP3 passed over. He waved off the report that he "playfully" suggested during a wedding toast at Carmelo's reception that Melo join him and
Amar'e Stoudemire
to form their own superteam.
Paul denied the
Hornets
were in the mix for Anthony, said he wasn't jealous of the trio in Miami and about switching to Leon Rose of CAA he said, "It was just time."
Just because Paul called up Carmelo and said, "Hey, you should come down here and play with me!" doesn't mean anything close to that is happening. The Hornets don't really have near the assets the
Nuggets
are looking for. A trade of
David West
,
Marcus Thornton
and
Peja Stojakovic
's expiring contract would be decent, but it's not in the ballpark that Denver's looking for at this point.
Besides, a lot of this Melo speculation stems from him wanting the big, bright market for him and his new wife LaLa Vasquez to be able to bask in the lights and make tons of money. I'm not sure if New Orleans exactly qualifies for that.
Now could Anthony wait until next summer and sign in New Orleans? Definitely. That's a possibility. How realistic? I'm not sure. Again, is New Orleans somewhere Anthony is willing to settle into long term?
But as rumored earlier in the week,
Carmelo doesn't want to go to his next destination alone and was potentially determining if Paul could join him in two years. If Anthony went to New Jersey, the
Nets
would certainly have the space to grab CP3 when he's a free agent in 2012. As for New York? That's a bit dicier.
And here's a third scenario just for fun that probably even Carmelo hasn't thought of: Re-up in Denver and in 2012, the Nuggets would have all the necessary cap space to sign Chris Paul. But nah, let's not think about that one. That's no fun.