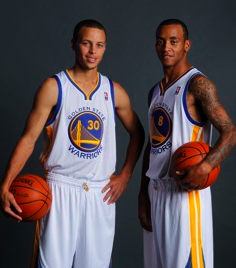 Posted by Royce Young
So much for camp battles and position competitions. New
Warriors
head coach Keith Smart has already figured out who he wants to use for his first first at the tip.
According to Matt Steinmetz of CSN Bay Area,
Smart will start
Stephen Curry
,
Monta Ellis
,
Dorell Wright
,
David Lee
and
Andris Biedrins
. Who's shocked? Who's completely stunned there? What, you didn't think
Dan Gadzuric
had a shot?
David Lee will officially make the position change from center to power forward, which is probably a more natural spot for him anyway. In New York, he played as an undersized center in an up-tempo scheme and in Golden State, well, I guess he's just playing power forward in an up-tempo scheme.
Really, across the board though, the Warriors didn't have any wide open positions up for grabs. Maybe small forward where Vladamir Radmanovic or
Rodney Carney
could've pushed Wright, but Smart didn't want to mess with it. He wanted to get it out of the way early and let players start figuring out roles now.
The big question has been how Curry and Ellis play together but for the foreseeable future, they are going to be together in the backcourt in Golden State. And instead of opening up things and seeing how it played out, Smart decided to just lock everything down now. He knows the team already and he's sticking to the script. It's the expected starting five and probably the one he would've settled on had he opened up all five spots in camp.