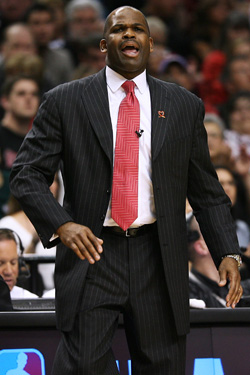 Blazers coach flying without extension net this season.
Posted by Matt Moore
Almost everyone wants job security. You want to be know where you'll be next year, two years from now, four years from now. It's best for you and for your family. But apparently Nate McMillan is totally okay with being out on the ledge without a vine. The
Portland Tribune
had a discussion with McMillan about his contract expiring
after this year and found something surprising. McMillan is totally fine with it. The Blazers exercised their option for this season on McMillan last year. But McMillan himself is the one who decided to go ahead and let his contract expire at the end of this season.
Get this. He says the team should be able to judge his performance after this season and decide if they want him to continue coaching in Portland.
"I believe the organization should be in a position to look at where this team is going and make that decision. Me not talking about an extension, please don't read into it that it's a sign I don't want to be here. I do."
Does. Not. Compute.
So McMillan wants to stay in Portland, but wants to give the Blazers the year to evaluate his job and see if they want to retain him. That's nuts.
"My agent (Lonnie Cooper) asks the same thing," McMillan says, grinning slightly. "He says, 'You talk crazy.'"
While it's certainly a noble enterprise McMillan has taken on, you also have to wonder if the removal of former general manager Kevin Pritchard and assistant GM Tom Penn have anything to do with McMillan's approach. There's a lot of instability in an organization that looked rock solid just a few years ago, and it's not hard to imagine McMillan wanting to prove to owner Paul Allen and Vulcan that he's worth the money, without question.
McMillan is definitely focused on this season, and as good as he was last year, navigating injury and chemistry concerns, it's possible he could outdo himself with a fully healthy roster (fingers crossed!). That would settle him in Portland for the long-run. On the other hand, he's leaving himself open to the possibility if things do fall apart that the Blazers have an easy out to ditch him. Gotta love NBA coaching gigs.