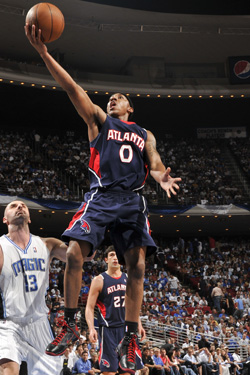 Young Hawks guard gets guidance from Nick the Quick.
Posted by Matt Moore
Do you realize how many young guys get lost simply because they can't find the mental gear necessary to survive in the NBA? Talent is not lacking, not in the NBA. It's that mental edge that weeds so many guys out. And the Hawks need
Jeff Teague
to find that edge. Teague showed tremendous promise last season as a rookie, and with
Mike Bibby
further slipping into retirement age, he's going to be needed even more.
So to find that spirit animal, the Hawks brought in former NBA star Nick Van Exel. And he's even got a name for the beast. As told to the
Atlanta Journal Constitution
:
"We call it 'the dog' in the NBA," Van Exel said. "We are trying to bring that dog out of him."
Just gotta stop you there, Nick. I'd just like to provide an opportunity for everyone to make their own favorite dog joke about the NBA. Perhaps a Glen Robinson joke? No? Maybe a
Ron Artest
early-career gag
? Wait, hold on, I know I've got an
Eddy Curry
work ethic line in here somewhere, just let me find it.
Okay, let's move on. So Van Exel has been trying to bring out the angry side of Teague in an effort to make him into the best he can be. Please try and appreciate the irony that
Jerryd Bayless
can't get a starting job in Portland because he's too aggressive with the ball and not enough of a point guard while Jeff Teague is enough of a point guard but not angry enough. Those two should get together and go bowling.
In all seriousness, Teague's showed great flashes both last year and during Summer League, and could wind up surprising quite a few people on a Hawks team that everyone has low expectations for, despite them not losing a single relevant soul from last year's third seed. "The Dog" could be enough to at least keep them in the conversation for the top seeds in the East.
Now, if you'll excuse me, I'm going to go find "The Dog" in making a sandwich. Aw, that just doesn't sound right at all.