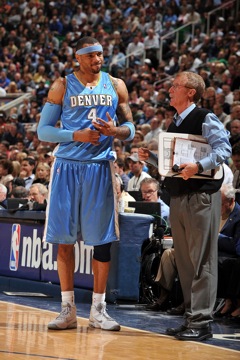 Posted by Royce Young
People can interpret
Kenyon Martin
's statement yesterday about his contract situation two ways. Either he's taking his time coming back because it's a contract year and he wants to be healthy or he's taking his time because he's peeved and it's a pseudo holdout.
Oh yeah, it would probably help if you knew what he said.
He told the Denver Post,
"I'm not rushing whatsoever. The day I come back is the day I come back," he said. "Think about it: Ain't nobody in a hurry to give me a contract, so why would I be in a hurry to rush back and risk further injury? Makes all the sense in the world, right? Trust me, I've thought about it plenty."
If you're asking my thoughts on this and I know you're not, it sounds to me like he's miffed about his contract situation so he decided to throw a little fit.
Yeah Kenyon, don't play and gripe publically about it. That'll show 'em!
Of course Martin wants to be extended, but think about where the
Nuggets
are coming at this from. They're trying to trade
Carmelo Anthony
to start a rebuilding process. Martin is 32 years old and has battled knee and leg issues since he came into the league. Heck, he's battling another knee injury right now and that's why he's out. So why on earth would he think it's unreasonable for the Nuggets not to extend him? It would be crazy if they did.
Martin made sure he let people know he wasn't happy though. "I feel me being here and what I've done for this (team) . . . (an offer) would have at least been extended, and it wasn't," Martin told reporters. "I don't know who made that decision, but the decision was made. And I ain't happy. They know it. Everybody knows it."

Yep, everybody knows it now for sure. But I don't think it's helping things at all.