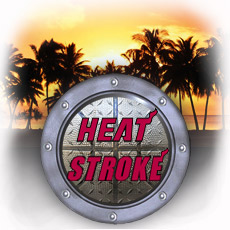 Posted by Royce Young
BIG TIME BREAKING IMPORTANT NEWS:
LeBron James
will be allowed to wear his headband in Miami this season. Phew, now I can sleep tonight.
Courtesy Ira Winderman of the Sun Sentinel,
LeBron said at Friday's practice,
"I asked for it and I got it."

You may be wondering, "Why did LeBron have to ask if he can wear his headband?" Well, that's because Pat Riley has some sort of ban on them, for reasons unknown to anyone on the planet. From an old article, Riley is quoted as saying headbands are
"the disease of me ... "I've just always had a thing about headbands."
Riley isn't the only coach that has a hangup with sweatcatchers. Jerry Sloan and Scott Skiles both prohibit them too. The common line of thinking behind restricting headband usage is that individuality is not part of basketball. Every play should dress the same, act the same and play as one unit on the court. It's a discipline thing. Most don't wear headbands for the intended use of catching sweat, but more for fashion reasons. I'm not saying I agree, I'm just saying I think that's the reasoning there.

However, LeBron's not getting special treatment from Riley just because he's LeBron. Previously, Riley allowed Jermaine O'Neal to keep his headband when O'Neal played in Miami. Odd how Riley easily allows something he called a "disease."

As for why LeBron insists on wearing skullbands,
James told the Akron Beacon Journal back in 2006, "I've worn a headband for a long time ... It is a routine. I don't know what I'd do if I couldn't wear one. If it is something you have been doing your whole life -- it doesn't matter what field you're in, athletics or the business side -- if someone comes and tells you to switch your routine up, it is going to mess up your work."
And instead of causing a MAJOR distraction this season in Miami, luckily Riley sidestepped all unnecessary controversy and attention by permitting LeBron to wear his headband. Crisis averted.