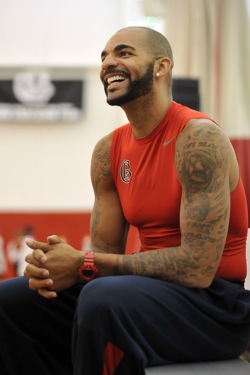 Posted by Royce Young
Most times, when you suffer a dumb injury, it's sort of protocol to make up a way cooler story as to how it happened. "How'd you break your arm? Oh, you were arm wrestling and it just
snapped
?" You don't say, "Yeah, I was hanging a picture and while on my tippy-toes, I lost my balance and landed sideways on the coffee table."
But
Carlos Boozer
went with the honest approach in
explaining how he busted his hand:
It was just dark. My doorbell had rang and I tripped over a bag, tried to brace myself and it popped. I jumped back up, opened the door and my hand was still a little bit numb. "It was a gym bag. It was a big bag I had first thing over here at the hotel for training camp. I went back to my place, hadn't unpacked the bag yet, came around the corner, running to get the door and fell over it. I'm 265, 5 percent body fat. I'm heavy, man. I guess I had to brace myself and my weight just collapsed the bone right there."
Because of the injury, Boozer will have surgery and will miss as many as 15 games.
Matt Moore already told you
what an effect that could have on his new team. But what about Boozer's pride? That's got to be hurting too. Though he has some company to make him feel better. He's not the first athlete to suffer a dumb injury and certainly won't be the last. A few other notable ones:
Sammy Sosa: Sprained a ligament in his back sneezing
Plaxico Burress: Shot himself
Ken Griffey Jr.: He's missed his fair share because of other things, but Junior once missed a game because his hand slipped putting on his protective cup and pinched one of his... you know
Joel Zumaya: Missed time because of an inflamed forearm and wrist because he was playing guitar hero
Gus Frerotte: Headbutted a wall after a touchdown and got a concussion
Slobodan Jankovic: After fouling out of a game in the Greek championship playoffs, Jankovic was so mad that he rammed his head against the concrete post supporting the basket. He fractured his neck, damaged his spinal cord and had to have spinal surgery. The injury left him paralyzed from the waist down.
Kevin Johnson: After KJ hit a game-winner, he hugged teammate Charles Barkley but the hug resulted in a dislocated shoulder for Johnson
Bill Gramatica: The kicker tore his ACL enthusiatically celebrating a kick he made in the first quarter
It's always interesting when an athlete gets hurt in such a normal human way. We hear stories of slipping in the shower, falling off a ladder or tripping over a gym bag. They almost seem just as made up as the fictional one I mentioned above. Because these guys aren't supposed to be normal like us. They're not supposed to be able to step awkwardly off a curb or slam their hand in a car door. We forget that athletes have to live and do normal things just like us when they're not at work. Now some of those above are far more dumb or accidental than what happened to Boozer, but you get the point.
It's just bad luck for a guy that put 265 pounds of pressure on his hand and it gave way. There aren't any lessons to learn here other than for Carlos Boozer, maybe he should start picking up after himself a little better.