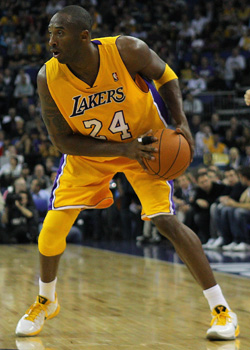 Bryant tells reporter knee is only 60% just three weeks from the start of the season.
Posted by Matt Moore
We're not going to waste your time with recapping the first preseason game of the season. Long story short, lots of reserves, not much of starters, and
Michael Beasley
looked good. What was relevant came for six minutes and then afterwards. That six minutes was the total amount of time
Kobe Bryant
spent on the floor. More important was what he said afterword, as reported
on Twitter by Mike Trudell
of
Lakers
.com .
Kobe said his knee was "extremely, extremely painful during the NBA Finals." Said he feels better, but is at about "60%" tonight.
60%. Yikes. We're three weeks from the start of the season and the defending Finals MVP, the best player on the defending champions is 60%. That's got to be concerning, until you realize that the Lakers could literallly lose all of their games for the first month, and then still probably make the playoffs. If any team defines "the switch" outside of Boston, it's LA. Bryant w
as frustrated and disappointed he couldn't play more tonight
, especially with the fans chanting for him, but the knee just couldn't go. It's a testament to his dedication that he wanted to play that much in a preseason game... in Europe. But that's what we've seen from Bryant.
For now, we'll hold off concern, even though being just over 50% three weeks out has to put just a few flags up. This is an important season for the Lakers, obviously, but it may be
the
most important. It's Phil Jackson's final year, Bryant's knees won't last forever, Gasol's getting older, and the competition keeps getting tougher in the West and out. With
Andrew Bynum
out till December, it looks like we won't be seeing the Lakers full strength for quite some time. I'm sure their fans are fine with that as long as they're still sterling in May.