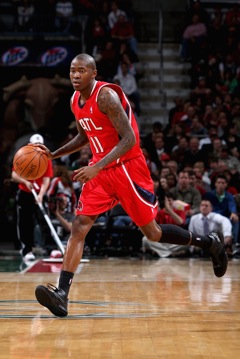 Posted by Royce Young
Jamal Crawford
probably isn't getting that extension from the
Hawks
. Doesn't mean he's not after it, but the Hawks aren't trading him and they probably aren't paying him either. So what are his options?
Become an unrestricted free agent next summer and
then
paid. And guess where Crawford says he wants to be?
He told the Associated Press:
"What do I want? I want to be here," Crawford said at the start of the Hawks' training camp. "I love being here. I LOVE being here. I had a ball every time. I felt like I was at a concert performing every time I played here. It was just a lot of fun."
Before we go anywhere else, a
concert?
And Crawford also says he loved having the "ball every time." Yes, and you shot it almost every time you had it too.
But with the option to go anywhere next summer, Crawford made it clear he wants to be in Atlanta. Which is slightly odd because they haven't offered him the extension he wants and because of it, he asked for them to look into trading him to a team that would. But now, he says he wants to re-sign next summer. Interesting.
However, the Hawks appear set up to lose Crawford. Not only did they pay
Joe Johnson
this summer, but they drafted shooting guard
Jordan Crawford
, another shooting guard much in the same mold as Jamal.
Crawford understands the uncertainty the Hawks are facing because of the new CBA and also because of
Al Horford
's looming extension. And though he's made his desire clear to stay in Atlanta, he knows that it might not happen.
But for once in his career Crawford is on a winner where he's playing an important role. Instead of just being a gunner, he's not a gunner with a purpose. He averaged 18 points a game last season off the bench and won Sixth Man of the Year. He's playing for a team that's in the middle of the East and though he wants to get paid, his real wish is just to stay where he's at and get paid. He likes the winning and he likes his role. Remember, it's like a concert, somehow.