Posted by Royce Young
NBA 2K11 knew exactly what it was doing.
When 2K Sports announced Michael Jordan would be on the cover of the game, they knew what the were indicating. You put The Greatest on the cover and make him the center of your game and you better produce something similar in quality.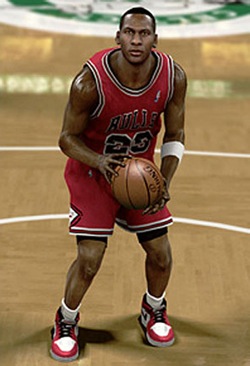 And boy, did they ever.
NBA 2K11 isn't quite on par with basketball's top legend, but that's only because it's not
flawless.
It's like the 1991 MJ - near perfect, but not quite there.
Before you even see a menu, the game starts with a dimmed screen with Jordan standing with his back to you in the tunnel. You can hear a hum as strobe lights pulse around Jordan. And as soon as I heard that hum, I knew what was coming. It honestly gave me chills for a second. That low organ note and then the riff. Before I knew it, I was reliving one of the biggest moments of my childhood. The Alan Parsons Project was blaring and I'm hearing, "From North Carolina... at guard.... Mike-alll Jorrrrrrr-dannnn!" It was pretty awesome.
You're immediately put into the 1991 NBA Finals against the
Lakers
with Jordan, Pippen, Paxson and the bunch taking on Worthy and
Magic
. In other games I never play with the all-time teams because I didn't buy Madden 11 to play with the 1966 Bears, but this is a whole other experience. The Jordan Challenge could be its own game. Seriously, they could have just forgot the My Player, the Association Mode and the other 30 teams. Forget Kobe and LeBron and Durant and Wade. The Jordan Challenge really is almost a game in itself.
It's almost a bad thing. Because I don't see myself getting off the Jordan stuff for a while. I can't wait to try and drop 63 against the
Celtics
in '86. Or get the shrug against the Blazers. Or take over in the flu game. It's the stuff I grew up loving and finally, I get the memories brought back. 2K11 knew what it was doing and it's genius. As it's gaming audience changes, the people that were 10, 12 or 15 when Michael Jordan ruled the world are now its peak market. And if they're anything like me, they'll jump at the chance to see it all again.
But what about the other stuff? I keep telling you, you almost forget there's a game in there after all this. The gameplay is terrific. At first, I had written down a qualm about the passing because it seems to defense really is eager to jump a passing lane and a long crosscourt pass never seems to work. But then I realized that's just because a lot of us are used to making dumb passes all the time. This game plays like real basketball. If the passing lane is cut off, you're not getting a ball through. You're not getting lucky. The defenders will get their hands on it and they'll be going the other way in a blink. It's a little frustrating at first, but the more you get used to it, the more it makes you appreciate a perfectly executed bounce pass or beautiful lob.
The AI is just terrific. Honestly, it's probably the underrated top highlight in the game. For instance, the switching. The computer knows when it gets a mismatch and it works right at it. If the
Heat
are running a pick and roll with Bosh and Wade and
Dwight Howard
and
J.J. Redick
get caught in a switch with Redick on Bosh, the computer immediately calls a play trying to get the ball to Bosh in the post. That's impressive. The computer switches for you as defenders would in a real game and if you bring a guy over to try and switch back, your defense helps and recovers as if it were real life.
Game presentation and feel are probably the most important things to me in any video game because I want it to seem like I'm just taking part in a real game. And while Clark Kellogg is more known as a college announcer than an NBA one, the combo of him and Kevin Harlan is terrific. My wife was in the other room and she came in and asked, "Who's playing? Is this a replay or something?" The announcing sounds
that
legit. They have set topics for each team to touch on. For instance, when playing with the
Thunder
, Harlan talks about how 150 fans or so met the team at the airport after OKC clinched a playoff berth. (I only mention that one specifically because I probably found that cooler than others because I organized that meet-up.) But Kellogg and Harlan even cut off one of the anecdotes if something big happens. When
Jonny Flynn
flashed in the paint for a big dunk, both announcers letting out a "Ohhh!" with Kellogg putting the story he had going on hold.
There's an incredible attention to detail down to things like accurate tattoos and free throw routines.
Kevin Durant
does his shimmy.
Steve Nash
goes through his practice motion and then quick dribble routine. And 2K11 once again nailed individual shooting styles. Magic Johnson's is so spot on it's ridiculous. I found myself trying to get fouled with Bill Cartwright to see if his free throw style was replicated. (It was.) I absolutely eat that kind of stuff up.
Now what keeps this game from being the 1997 Jordan in terms of perfection are a few minor things. For instance if a player has white knee-high socks on, they constantly turn black. I'm sure a patch could fix it, but I found it pretty annoying. Another thing is that I'm not in love with the ball-handling. There's not a ton of control over what your player does and while Elite 11 was otherwise a mess, the ball-handling system was pretty cool. But that's picking nits there.
Overall this game is as good as any basketball game - or sports game period for that matter - you'll ever play. From the crowds, to the announcing, to the play calling system - everything is as close to real basketball as it can be. Basketball games have notoriously struggled to bring the actual game into a video game because it's so free flowing and basketball lacks structure. But 2K11 is as close as you can get.
If you saw Quentin Tarantino's
Inglorious Basterds,
the last line of the movie is Brad Pitt's character saying, "I think this just might be my masterpiece." Some saw it as a direct statement from Tarantino about the way he felt about his movie. And in the same way, by NBA 2K11 putting The Greatest on the cover of its game, I think they were probably trying to make the same statement.