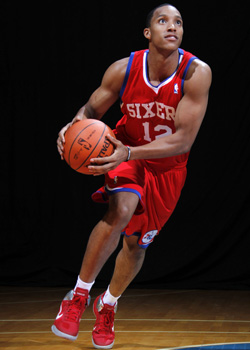 Sixers rookie moving to backup PG, will come off the bench.
Posted by Matt Moore
Not quite ready for intro. That's the decision of Sixers head coach Doug Collins regarding second overall pick
Evan Turner
. It's not a bad thing, though, especially considering that Collins told the
Philadelphia Inquierer
Monday that
Evans would be playing backup point guard
to
Jrue Holiday
, expected to be a standout this season. Turner has been considered a wing for as long as he's been a prospect, despite averaging six assists last season as a Buckeye.
The move means takes a headache away from Collins as the difficulty in finding time for both Turner and Iguodala on the wing is now shifted, with
Thaddeus Young
maintaining his starting position. Evans as a point guard is an intriguing idea at 6-7, putting him in the same size and versatility index of
Tyreke Evans
, though with more polish and less athleticism. How he works on the second unit will be interesting. It's also something to keep an eye on due to the fact that if Turner were to reach his potential, the Sixers could be setting themselves up for a point guard controversy. As it stands, Turner will learn the ropes and not be forced into anything, the best situation for a rookie trying to learn the most difficult position in the NBA.
The truth of the matter is that the Sixers rotation is liquid right now. Turner can play point, shooting guard, or small forward.
Andre Iguodala
can play shooting guard, small forward, or even power forward in a pinch. Thaddeus Young can play either forward position, though he's been vocal in the past about playing small forward. While Doug Collins sorts out what works and what doesn't, and while Rod Thorn and Ed Stefanski attempt to put together a plan going forward, there will be experiments. But from how confident Collins has been about Turner as a point guard, it doesn't look like this is one of them.