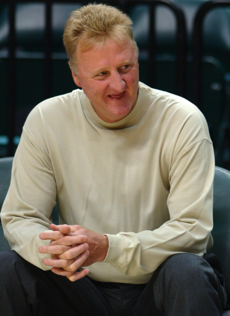 Posted by Royce Young
It's been over a decade since Larry Bird last coached. He led Indiana to an awesome 147-67 from 1997-2000 and last coached in the NBA Finals. He said he'd give the
Pacers
three years and that's exactly what he did.
Then Bird moved to the Pacers' front office, taking over completely in 2008 after Donnie Walsh went to New York, where Bird hasn't been near as successful. So the Cleveland
Cavaliers
, with a coaching vacancy earlier this summer, thought it might be a good idea to pull Bird back into the game.
And as Marc Stein of ESPN.com reports,
the Cavs reached out to Bird prior to bringing in current head coach Byron Scott. Obviously Bird rebuffed the offer and stayed with Indiana, but it's interesting nonetheless. Bird took the call according to Stein but then quickly decided he had no interest at returning to coaching.
Bird, 53, is said to have pretty much ruled out any return to coaching because of health and family reasons. Never a guy to love the spotlight, Bird has preferred his front office chair instead of the sideline one.
The Cavs had a rough time during their coaching search. Scott is a former Coach of the Year, but now with this Bird revelation, that's two high-profile figures that said not thanks to Cleveland. Current Michigan State coach Tom Izzo was close to accepting the job, but decided to stay in East Lansing instead.