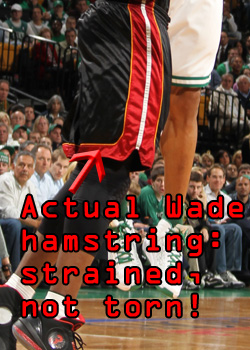 Miami star will not return to preseason game versus Pistons after straining hamstring.Posted by Matt Moore

Well the good news is that
LeBron James
is off to a hot start, scoring 12 points in the opening quarter. The bad news is that
Dwyane Wade
left just minutes into the first preseason game between the Miami Triad and the Detroit Pistons. Wade was treated on the bench before heading back to the locker room. He has been diagnosed with a strained right hamstring and won't return,
via KB
.
Wade has had a plethora of injuries throughout his career since winning the title, mostly on account of his fearless style. The injury of course is ridiculously minor, but since every single thing any of these players do is huge news, it's probably going to be analyzed. Wade's won't return in tonight's game and since it's preseason, expect him to miss a few more as the training staff is insanely cautious with him.
But hey, LeBron looks good!
To your right, you'll see a look at the healthy version of Dwyane Wade's hamstring. We've got all your
Heat
coverage, right here!
Rumors cannot be confirmed at this time that Wade faked the injury in order to catch "Glee." Here's
some more information
about hamstring injuries. Science!