DeMarcus Cousins and John Wall have huge debuts in preseason to set the tone for the ROY chase this season. And it may not be close.
Posted by Matt Moore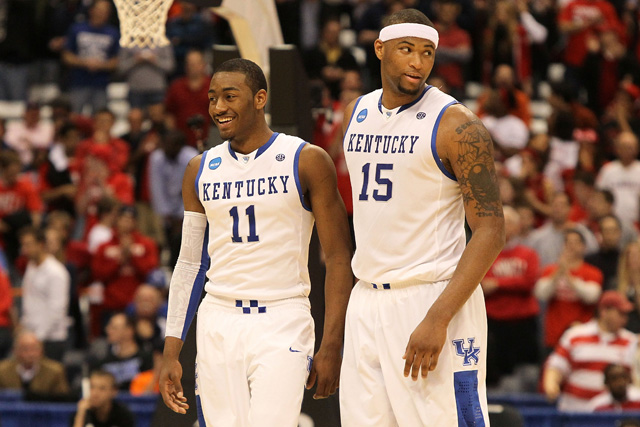 Say what you want about John Calipari, he finds himself some NBA quality talent. After producing the previous two Rookie of the Year award winners in
Derrick Rose
and
Tyreke Evans
, Calipari may end up having more than one horse in the race this season. Both John Wall and DeMarcus Cousins were highly touted coming out of college, but through Summer League and their first preseason games, we're already getting a sense that it may be these two, and then everyone else for the top rook trophy.
Wall-Eyed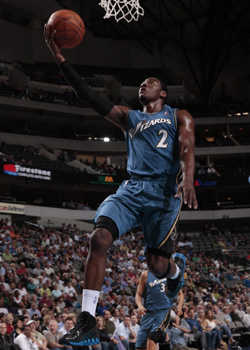 John Wall in his first game on an NBA floor? He was remarkable. Better than expected. Preseason? Sure. But you can't argue with the kind of production he provided, and not just the numbers that pop out to you. 21 points, 9 assists, 4 steals? Great. But he shot 42% from the field, and more importantly was 9-11 from the line. Most crucial was just two turnovers despite having the ball that much. That's absolutely huge. That numbers will rise with better competition, but just to show the ability is huge for the
Wizards
as they look for him to become the future of the franchise.
But don't take my words for it. Here's what Wizards blog
Bullets Forever had to say
on the matter:
"It's possible I underestimated the effect of John coming at you in transition will have on his stats and the team's performance. Dallas isn't exactly the fastest team in the world, but their only chance at stopping Wall coming at full speed was to foul him.

Wall's half-court execution does still need work, especially his pick and roll offense. He's still learning how to attack the pick in such a way where he actually uses it well. But on the bright side, he didn't turn the ball over much and he realized that Dallas was often playing him to pass."
That's crucial. For some reason, beyond my comprehension, there's been this feeling that Wall's a natural scorer who will have to work to set other players up. If you watched him in college at Kentucky? You know that's not true. Wall more than any other player showed a skillset that fit passing in the NBA best. His drive and kick to the baseline jumper man was automatic, except it was college and no one hits that shot in college (except for
Patrick Patterson
). He establishes chemistry with a big man (
JaVale McGee
in Washington off the bat) and works to see him in transition. He's lightning quick but sees the floor at a slower pace.
Wall has the potential to distribute with this team, the question was if he'd be allowed to among veterans who like the ball. If the preseason holds any value whatsoever, that doesn't seem like a problem. Even
Gilbert Arenas
in his postgame comments made it clear
. This is Wall's team. And if that's the case, that Rookie of the Year award is going to be within reach from the get go.
Run DMC in Full Effect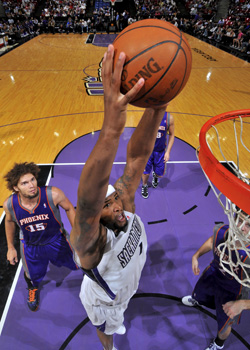 DeMarcus Cousins slipped all the way to the
Kings
at number five, and honestly, there was absolutely no reason for it. His character issues are all built around on-court blowups which aren't unheard of for a kid his age, and he hasn't been in off-court trouble since his sophomore year of high school. In the meantime, he was arguably the MVP of Calipari's Kentucky team.
Sacramento knows what they have in the combustible big and have marketed him all summer. Then in his preseason debut last night, he showed what he's capable of. 16 points, 16 rebounds, are you freaking kidding me? Check out the two highlights in the first starting at 37 seconds in here . That's what he's bringing, along with what was a good looking jumper.
Cousins has so much instinctive ability at the basket, and for a team looking to run this season, he focused last night on outlet passes. That's a terrifying concept for opponents, if he's able to finish in the post and start the break while bringing in rebounds. His wide body and instincts are going to bring those rebounds in, and preseason or no, 16 boards is a heck of a lot. Cousins already looks like the steal of the draft, and his physical assets put him a leg above
Blake Griffin
, even before the injury, though Griffin's upside is obviously huge.
Here's what
Sactown Royalty
had to say on the matter of "Boogie":
On defense, he was surprisingly active, contesting shots, denying his man position. He still needs a bit of work, but I think he could be a quality defensive presence someday, especially with his knack for drawing charges. Another nice thing about DeMarcus is that he eats rebounds and craps nice outlet passes. Many a fastbreak was started last night after DMC corralled the board and threw it out to Tyreke or Beno. His solid performance was not without flaws however, as he made a few silly mistakes with the ball (including once trying to run the ball up the floor himself after a rebound, leading to a quick turnover) which led to five turnovers, all but one of them because of careless mistakes that can be fixed with experience.
Cousins' learning curve could be high as well, depending on how he and the coaching staff mesh, which of course gets back to the attitude questions. But with that kind of opening performance and the minutes he's getting from the start, it's clear Sacramento knows what they have with him. Alongside Tyreke Evans, Cousins has a great shot of being able to compete for the trophy based on opportunity and instincts.