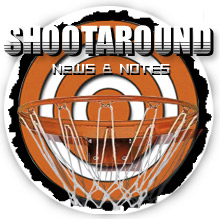 Bulls thinkin' 'bout Dampier, Wizards thinkin' 'bout a name change, and Kidd thinkin' 'bout playing till he's 40, all in today's Shootaround.
Posted by Matt Moore
Peja Stojakovic
says health
will determine if he plays past this season
, the final year of his contract. He wants to get through just one year pain free. It's something we rarely consider with these players, treating injuries like they're some sort of outside clamp that prevents them from playing instead of actual pain the players are experiencing.
With Boozer on the shelf, the Bulls are taking a long look at Erick Dampier,
according to Marc Stein of ESPN.com
. The Bulls waived Chris Richard this week, which is surprising considering their lack of frontcourt depth and the job Richard did in limited minutes.
Marcin Gortat
is not going to suddenly get quiet about the issue: he wants a bigger role, now. Unfortunately for him, the
Magic
are pretty much like "
Deal with it, baldy
." Gortat signed a huge contract with the
Mavericks
last summer but the Magic matched it in restricted free agenc and here we are. For some reason the Magic think having a severely disgruntled Polish guy called "The Hammer" on their team is a good idea.
So this is pretty awesome. Ted Leonsis, the new Wizards owner,
posted 101 things
the Wizards have put in play to try and improve the fan experience at Wizards games. Some of the smallest details are covered, like how fresh the hot dog buns are. But hidden in there is the following: Changing the name back to the Bullets. Status? "Under consideration." Hold your breath, Bullets fans.
The
Hawks
exercised their option
on
Jeff Teague
, which should surprise absolutely no one. Teague's locked up through next year, if there is a next year.
Kevin Garnett
"
went to a dark place
" after last year's Finals, which is just classic over-the-top Garnett talk. He was pretty much a wreck after losing that series, leaving you to wonder how he deals with life in any sort of way whatsoever.
Rudy Ferandez'
agent went absolutely psycho-hose-beast
on local radio, basically pulling a "Leave Britney alone" speech for Fernandez. The kicker is when asked why Rudy wants to go home: "There's friends, there's family, he's a shy guy. He's special." And also a Fraggle, apparently.
Josh McRoberts
had an outstanding line last night
and the bandwagon is starting to
Heat
up. McRoberts has already filled into the starting PF spot for the
Pacers
, and with little competition, will probably hold onto it. A star is born? Maybe?
Jason Kidd
wants to play until he's 40
, which is just ridiculous and yet completely believable on all fronts. Oddly, he's already a defensive liability, but the Mavs are thinking about moving him to shooting guard. Which could end up disastrous, but hey, you never know with Kidd. Dude's a survivor. He's going to make it. He's going to work harder. Keep on survivin'.
What
?
This
Nets
-Knicks rivalry
gets more entertaining every day
.