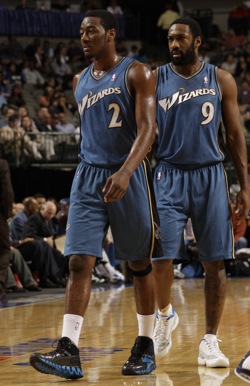 Posted by Royce Young
After Tuesday's preseason game,
Gilbert Arenas
spoke
to the media and said,
"Right now I'm out there to hit open shots, teach John [Wall] the ins and the outs of the game, and then eventually go on and move on - on my way."
Most interpreted that as Arenas' time in Washington was short. And by the sounds of it, it sure seems that way. Arenas even compared the situation to how Larry Hughes stepped aside for Arenas to become a star when Gil arrived in Washington. And by Hughes stepping aside, that meant he moved on as in moved out.
But Arenas tried to clear up his statement. Though it sounded like he wanted to be moved before the end of his contract which expires in 2014, he said he's happy staying where he's at.
"I've got four years left,"
Arenas told Michael Lee of the Washington Post.
"And that's it. That's all I was saying."
Arenas is making the point that he understands it's not his team anymore. It's
John Wall
's. And the fact a player of Arenas' caliber is willing to admit that, especially at a time where Arenas is still in the prime of his career, is surprising. And also very mature and responsible. It's the new Gilbert Arenas, ya'll.
When the
Wizards
drafted Wall, things could have gotten awkward between Wall and Arenas. The top pick was walking into a situation where the team was already's Arenas' but it had been passed on in some ways because of the locker room incident last season. If Arenas wanted to be stubborn about this, it could upset things. Instead, the new mellow Gil has accepted his mentorship role and wants to just play with Wall, not against him.
That doesn't mean the Wizards don't want to trade Arenas though. However,
both Marc Stein
and Lee report that no trade is in the works right now and for the foreseeable future, Arenas is in Washington. Whether he makes it another four-year term in D.C.? That's to be determined.