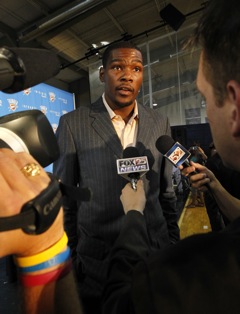 Posted by Royce Young
The thing about
Kevin Durant
that keeps people so fascinated, other than the scoring and general awesomeness at basketball, is his almost-too-good-to-be-true attitude. He always plays the humble card, always thanks teammates and always says the right thing, even when he doesn't have to.
The latest example:
LeBron James
was having a party in Kansas City at The Midland, a theater downtown. Durant was invited but politely declined the offer. "I don't go out to parties the day before a game,"
Durant told The Oklahoman.
"I really don't go out too much during the season."
This guy, Durant. It's preseason. The game doesn't matter. Durant probably won't even play more than 20 minutes. Yet he's not going out to a party. It wasn't a shot at LeBron, it's just how KD operates.
It kind of reminds me of the movie
Three Amigos
where the amigos are talking about what they're going to do with the money they're about to earn. Steve Martin's character talks about getting a big, shiny car. Chevy Chase says he wants to see the world. Martin Short, on the other hand, says he wants to start a shelter for underprivileged children. The other two immediately say, "Oh yeah, I meant
after
I do that, I'll buy a car." I feel like LeBron didn't really consider the fact that he's throwing a big party the day before a game. Now that KD says it, I wonder if he thought, "Oh. Yeah, me either. I don't party before games either."
This isn't to imply LeBron did a bad thing. I mean come on, it's a meaningless exhibition game and LeBron is a super famous person that can do these type of things. We don't know if LeBron only showed up to the party for 10 minutes and was in bed by 11 p.m. So it's not fair to use this as another "Durant is the anti-LeBron" thing. But still, Durant turning down the offer is just another example why people are so enamored with KD.
LeBron and KD are going to be connected in these type of circumstances for a while. As much as Durant tries to downplay it and say things like, "LeBron is a better person than basketball player," it's fun to paint it as a good guy versus bad guy thing. And it's not hard to make Durant into the white knight.
Most think when Durant talks about his affinity for Oklahoma City, it's just lip service. He's saying what the fans want to hear when he says how much he likes it and how it fits his personality. But it's truth. OKC is a laid back, calm, quiet place where people aren't really throwing blowout parties on a Thursday night. The temptations for distraction aren't really there in Oklahoma City. Some see that as a bad thing, but for a guy like Durant that fits right in with the city, it's a perfect match.