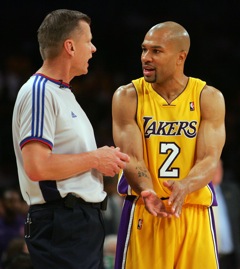 Posted by Royce Young
The NBA said it was serious about implementing new technical foul rules. There's now a "respect for the game" clause and the whistle will be much shorter for player.
And we're already getting a good look at it in just a handful of preseason games. So far, they're definitely serious.
There's
Grant Hill
and
Reggie Evans
getting tossed for
patting each other on the backsides.
There's a lot of players like
D.J. Augustin
who got hit with one for a mild protest during Wednesday's game against the
Thunder
. And then there's last night's affair where three
Celtics
were nailed with the big whistle.
Paul Pierce
,
Von Wafer
and
Nate Robinson
were all assesed technical fouls in last night's win over the
Nets
. Pierce got tabbed when he took exception by throwing a fist in the air after teammate
Rajon Rondo
went hard to the floor with no whistle.
According to the Boston Globe,
official Steve Javie tried to stop Pierce, but it was too late.
"I didn't realize,'' Pierce told the paper. "Steve Javie was like, 'That's the new rule.' I was like, 'Dang.' But I mean, it's something that a lot of players are going to get early technicals, but they'll make the adjustment."
Robinson was nailed under similar cirumstances and Wafer picked up what's already his second technical for a small protest.
The new rules say this:
"Players making aggressive gestures, such as air punches, anywhere on the court. Demonstrative disagreement, such as when a player incredulously raises his hands, or smacks his own arm to demonstrate how he was fouled. Running directly at an official to complain about a call. Excessive inquiries about a call, even in a civilized tone.

"In addition, referees have been instructed to consider calling technicals on players who use body language to question or demonstrate displeasure, or say things like, 'Come on!' They can also consider technicals for players who 'take the long path to the official,' walking across the court to make their case."
The league tried a crackdown similar to this in 2006, but it didn't last long after players just couldn't adjust. And thus far, though it is just a few games into preseason, it looks like players are having a difficult time again. Basketball is a high speed game played with a lot of emotion. And sometimes, like in Pierce's case, you react without even really thinking. It's easier said than done to keep those emotions in check.