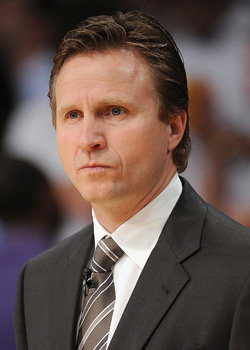 Thunder coach expects difficulty in managing frontcourt versatility, praises Westbrook's leadership growth.
Posted by Matt Moore
Scott Brooks simultaneously has an extremely difficult and conveniently easy gig right now. He's got a top club in the NBA's Western Conference, but operating with a young roster in a small market, expectations aren't through the roof. He's got a high volume of frontcourt depth, but he's got to figure out how to manage all the rotations and minutes. And he's got guys that love to play together. There's really no downside to that.
At practice Friday morning before OKC's preseason game versus the
Heat
, Brooks talked about that frontcourt depth.
Cole Aldrich
, the eleventh overall pick (acquired in a trade with the
Hornets
that also netted Mo Peterson) will get the start tonight in KC, less than an hour from KU where he made his bones in college. The Thunder this year have worlds of depth down low, with Aldrich joining
Serge Ibaka
,
Nick Collison
(another KU alum), and
Nenad Krstic
with
Byron Mullens
mopping up the excess. Brooks says the depth is a good thing to have, but a challenge for the staff.
"I like the depth we've got at all five spots. It makes it challenging for the coach, but it's better. You'd rather have that than have to bleed every minute of the starting five. I feel very confident that our guys off the bench whoever they may be will come in and do well. I like the frontcourt. We've have a lot of different style of players. Serge brings his game, and then on down the line: Cole, Nenad, and Jeff, with Byron and D.J. It's my job to figure out how to mesh it all together."
Brooks also spoke about
Russell Westbrook
and the leadership skills he took from his work this summer with Team USA:
"Any time you're around a great group of athletes like he was with Team USA, it's going to help your game and your leadership. Coach K's a terrific coach, and you learn something from every coach you have. Russell's leadership skills have improved every year. I think as a point guard you want that. It's hard to lead a team as a rookie. The only one I can remember is Magic. But Russell's done a great job in developing his leadership skills."
Westbrook will get his chances to show the offensive leadership tonight against a Heat team that will start
Mario Chalmers
(another former Jayhawk) and
Mike Miller
, filling in for an injured Dywane Wade.