Heat forward ready to the dirty work on the Heat, just as he always has, despite the critics.
Posted by Matt Moore.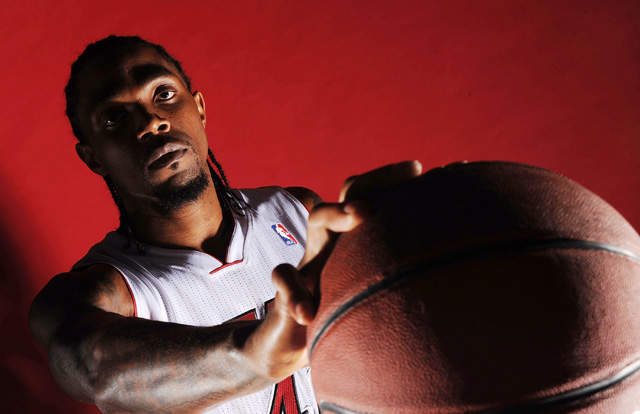 Udonis Haslem
has a championship ring. He's a seven year veteran of the NBA, has a great per-minute average (
11.7 points, 10.4 rebounds per 36
) and is the consummate worker. But when people talk about the Heat, the biggest criticisms are of whether they'll be able to defend the post or rebound. This despite Haslem's 16.9 rebounding rate (percentage of all available rebounds collected) which was good enough for eleventh among qualifying power forwards.
In the post? According to
Synergy Sports
, he held opponents to a 39.2 FG% in the post, good for tenth among players with his number of possessions. That's really good, if you're not great with numbers. Haslem is a tremendous rebounder and low-post defender. And yet the critics remain. Haslem, for one, isn't frustrated by it.
"I'm used to it you know because I always fly under the radar. It's unfortunate because some of those people making those calls are supposed to be experts, but if they were experts, they would know what you know. But my job is not to impress those guys, it's to make this team better. As long as the guys in this organization and the guys I step on the floor with know my importance, that's all that matters."
It's Haslem's understated way that's allowed him to prosper with the Heat his entire career. Despite not having exceptional size or athleticism, Haslem is a productive member of the team, a vital component. As
Chris Bosh
put it after the Heat's win:
"He just has a great knack for the ball, I don't know how he does it. He does a good job of putting a body on his man and going and get it. Just looking at him lets me know how I need to improve on my rebounding. Just the fact that he knows how to play and that support off the bench, he pushes everybody else, and it's helping us a lot."
That's certainly true. Haslem poured in 17 points, 9 rebounds, and a plus/minus of 15 in 21 minutes Friday, flummoxing the young
Thunder
frontcourt as he showed off that "knack" time and time again. He worked with Chris Bosh, switching off on the toughest defensive assignments, and was constantly in position. It's this strength of Haslem, the in-between plays, the little things, that make him what could be the X-Factor for the Heat this season, the player that pushes them through when starpower is constrained.
A perfect example was Friday against an amped Thunder team that lead for most of the first quarter. Then Haslem entered and all of a sudden the rim was no longer built with a welcome mat, the rotations were tighter, the defensive communication, much better. After the game, Heat head coach Erik Spoelstra described Haslem not as the kind of pure-energy element, but as the basketball version of football's defensive leaders.
"(Udonis) has obviously a toughness and intensity to the way he plays, but a real intelligence defensively. He helps guys out, can make the proper rotations, he makes a lot of things look easy. But it takes a real savvy veteran player to be able to anchor that. I look at him as a linebacker, really making good plays and anchoring the defense."
There will continue to be questions about Haslem, due to his lack of length and the way the
Celtics
were able to so thoroughly flummox him last season in the playoffs. But that was on a team with limited offensive weapons, something the Heat no longer suffer with. Bosh will knock down the mid-range jumpers, James will do what he does, Miller will stretch the defense from the perimeter, and oh, yeah, there's that Wade guy.
Haslem doesn't think he'll just be called upon for cleanup. He says he understands he'll have to hit from all over the floor and to be ready offensively when called upon.
"There will be shots all over with this team. I have to be comfortable shooting the ball from everywhere. Top of the key, elbow, baseline, whatever the defense gives us. "
But for every bucket he pulls in, the real questions will surround the defense, and if it's getting the job done. Haslem says the key for the good defense the Heat have shown in the first games of preseason will be maintaining the intensity they've had so far.
"You've got to bring that intensity every night. You know, it's easy come out with intensity with the home crowd, and in training camp against each other every day. When we finally get a chance to go against other people, it's easy to have that intensity in those moments."
The NBA is a grind, especially the regular season. The reason so many good teams fall by the wayside during the regular season is because they can't bring it night after night after night, something that Haslem says the Heat are focused on.
"It's going to be tough, but the bottom line is we have to have that mental toughness to go out and play hard every night. Every night's not going to be a good night, our body's not going to feel bad every night. Some nights you're going to be mentally tired. But we have to go out and get after it every night."
There's a lot of newness to the Heat. Players are still figuring things out, trying to understand what goes on night in and night out with one another on the floor. But even with the newer players that have joined the team, Haslem seems to think the changes won't be that severe.
"All these guys are veterans, so we've played together at one time or another. We have great respect for what everyone brings to the table."
It's becoming more clear as this Heat team begins to take shape that as much as the Big 3 will pave the way for the Heat's prosperity, it may be players like
Mike Miller
and Udonis Haslem that help see them through struggles. Doing the dirty work, making the tough smart plays.
Just like a linebacker.