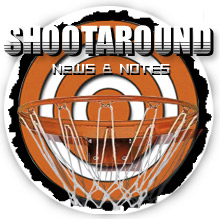 Turtlenecks are in for SVG, Splitter is out for the Spurs, Ron Artest's second ring is already on its way out, and Ryan Anderson is in gear for the Magic, all in today's Shootaround.
Posted by Matt Moore
When the NBA announced a rule regarding coaching dress codes, which presumably would outlaw turtlenecks, everyone immediately thought of Stan Van Gundy. Van Gundy himself actually said they should name the rule after him. But the
Orlando Senitinel
went out and discovered that
SVG will be able to wear turtlenecks this season
due to how the rule works. I don't know whether SVG should be happy or sad about his development.
Greg Oden
says he can be an All-Star
, when healthy. Honestly, no one doubts that out of Oden. He's tall, a huge advantage in the sport of basketball, and bulky, a big deal in the NBA. But he needs to not say things like this because it only attracts more attention to the fact that he
hasn't
proven he can stay healthy, or rehab effectively, or that his head's in the right place. He just needs to not talk about it, go out, and do it. Anything else is just going to bring the vultures.
Tiago Splitter
continues to miss time with a leg injury
. In the myriad of ways that his NBA career could have started, this isn't the worst, but it's up there. Nagging small injuries aren't just obnoxious and painful, they're hard for coaches and players to sympathize with, and call into quiestion a player's toughness. That's what Splitter's facing in preseason with a tough veteran Spurs club.
The Blazers
are adding
Steven Hill due to their lack of big men, which is awesome, because he's from Branson, Missouri. Hill should instantly be the leader in
mini-golf handicaps
.
Anthony Mason Jr. son of the former Knick
star has been cut
from the
Heat
. Too bad, he showed some flashes in limited time, but that roster's kind of full-up if you haven't noticed.
Ready for a storyline you can bank on this year? Raptor fans are going to go from feeling disdain towards
Andrea Bargnani
to outright hatred. He's
going to get all the blame for the Raps
, even while he probably leads the team in scoring. He's overpaid, but that guy needs a fresh start somewhere else more than anything.
The
New York Daily News
reports that the
Bulls
are investigating
Carlos Boozer
's
fall to see if he really did injure himself tripping over a bag
. Bulls by the Horns says that the investigation
is neither surprising nor troubling
, just business as usual. It's still not the way the Bulls wanted to start the era of their marquee free agent from the biggest FA summer in history.
Ron Artest is
offering his second championship ring
to whoever writes the best essay on how to improve the country. In case you're confused, no he has not won that second ring yet. Ron is not lacking for confidence on this team.
Vince Carter
is beaming about
Ryan Anderson, which is a good sign for the Magic. It really looks like Orlando will be in a position to use him more this season.
This is
probably the last season
for
Antonio McDyess
, and
might be the last one
for
Marcus Camby
. Bizarre to think of an NBA without those two vets, and sad to think they'll probably wrap up their careers without a ring.