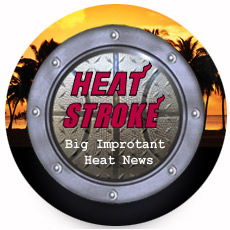 Breaking News: Heat will make NBA ungodly amounts of money this year. Posted by Matt Moore

Mike Wallace, now of ESPN, commented Friday night in Kansas City for the Heat's sellout crowd (the first professional basketball game in KC's Sprint Center to actually feel like it sold out) that the Heat could be the NBA's
stimulus package, with the way they're drawing people
. Based on the enormous amount of attention the team is getting and a report today from the
Wall Street Journal
, that joke could be much closer to the truth than we suspect.
The
WSJ
today reports that ticket prices for the Heat
are up across the land by as much as
...wait for it... 72% from the rest of the league. That's just stunning, I don't care how expected it was. That 72% increase is for the
Celtics
, though, arguably their biggest rival. But what's interesting is how widespread the increases are. The second biggest increase is in Cleveland, where the price is over $127 per ticket, versus the season average of $74.51.
Just so we're clear on this, the owner that has consistently disrespected James for what he feels is betrayal, and who played to the fans' heart strings, that owner will be making a considerable profit from James' appearance in Cleveland, and apparently demand is high enough to justify it. This is the great thing about sports. We feign outright disgust while still paying for that which disgusts us.
Meanwhile, the same effect happens with Toronto, where the price rises over $54 to see
Chris Bosh
not play defense for someone else, and even in cities who weren't burned by this summer.
Rockets
prices are up over $40, and Sixers prices are up over $52
Bucks
. That's quite a steep increase in the middle of an economic downturn, regardless of when the recession ended. It's yet another sign of what the more rational among us tried to say this whole time. People can badmouth the Heat all they want, they are great for the league. Not good, great. Every team is going to profit significantly on those nights when the Triad Circus comes to town, and there's no denying they want those dollars.
If Dan Gilbert was really so outraged on behalf of the city over James' betrayal, he'd drop ticket prices for that game so that the fans could get afford to come see the man who broke their hearts and tell him how they feel. I'm still stunned the league is putting this on national television (which we'll get to another time), but the draw is obvious. Heck, just look at the ticket prices. Meanwhile, the Heat are going to put the NBA on the map in a way not even the recent Celtics-Lakers rivalry has been able to. This is going to be a peak season for the NBA in attention and revenue. Just a shame the peak comes right before the lockout fall.