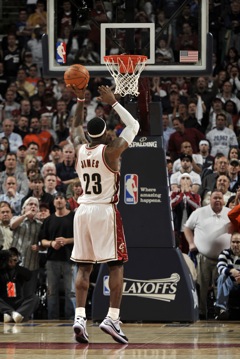 Posted by Royce Young
Remember
LeBron James
' elbow problems last season during the playoffs? It was
so
bad, he even had to shoot free throws left-handed. Then the Cavs lost to the
Celtics
, LeBron didn't play great in the last few games, then he signed with Miami and everyone forgot about the problems James had with his trusty right arm.
Finally, LeBron is talking a little about it.
He told Lang Whitaker of SLAM
a little about what he went through with the elbow:
"It was pretty bad. It was something we couldn't figure out exactly what it was. There was times where I couldn't fully extend my elbow, and that's my shooting arm. And I do a lot with my right hand [laughs] … Close to the last week of the season it started hurting a little bit, and then it just got worse throughout the playoffs."

Wow, couldn't fully extend his elbow? I'm no David Thorpe here, but I'm pretty sure that sort of things is required to successfully shoot a basketball. Still no official diagnosis as to what was bothering LeBron though with the elbow or how it came about. We just now have LeBron finally saying, "It was pretty bad."
Credit to LeBron though, because he never made an excuse about the elbow. He is now, but that's well after the fact. Following a few of those dismal performances, he easily could've pointed right at his elbow and passed it off on that. But he didn't. He doesn't talk about how or where he's hurting. At the time, then-GM Danny Ferry said LeBron would've rested if it weren't the playoffs. Instead, he played.
If you remember, LeBron went to the jumper more and more when the elbow pain hit. Instead of aggressively bulldozing his way into the lane like he normally does, he shied away from the inside punishment and lingered on the perimeter. Now of course the whole elbow situation coupled with his poor performance and the way he tossed his Cavs jersey to the ground after Game 6 led people to crank up far-fetched theories that LeBron was throwing the series to escape town. But that stuff is as real as Sidd Finch.
Thus far in Miami, there haven't been any apparent affects still lingering over from the elbow issues. LeBron's jumper has looked healthy and he's been aggressive as ever. And so far, he hasn't shot any left-handed free throws.
Via Ziller at FanHouse