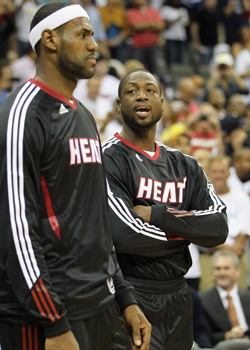 Heat locker room far from playful, players speak of "sacrifice" often as preseason ramps up towards regular season start.
Posted by Matt Moore
It's preseason. Which means that anything that occurs needs to be taken with a grain of salt the size of softball. But there was an overriding feeling you could take from the Heat locker room last Friday, their second preseason game in Kansas City against the Oklahoma City
Thunder
. If what we're seeing in preseason is any indication, things will not be the same as they were in Cleveland.
Oh, James will still be there. He'll still be torching defenses that are literally powerless to stop him, whipping passes to teammates who now might actually catch and finish off of them. And the egocentricity will still be there. Of that you can be sure. In Kansas City, James' locker room was closest to the door at the furthest edge, not atypical for an NBA starter.
Dwyane Wade
, out with a hamstring injury, occupied the other end of the bracket. But it was James, only speaking to reporters for a precious few minutes (it is just a preseason game in KC, after all) who loomed. His gear spread out, occasionally shouting rap lyrics as he listened to those gold Dre headphones.
The biggest difference between this Heat locker room and what we saw in Cleveland, though, may be in attitude. The Cavs were consistently discussed as being very loose, very easy going, always joking. The bench
famously danced
to
their opponents' misfortune
. Many found it disrespectful, some found it unprofessional. It's possible that the Heat could turn into the same happy go-lucky bunch when they get to know one another better, when there aren't kids scrapping for a final roster spot on a team that could net them a championship their first year in. But there was a very clear sense of the tone of the Heat both in the locker room and on the floor, best summed up by
Udonis Haslem
before the game.
"From Day 1," Haslem said, "when everyone started to make sacrifices to be a part of this, we understood what it's all about. It's all about business, and everyone coming together for a common goal, to try and win a championship."
That much was clear, even in a preseason game in a non-NBA city. The players aren't robots, it's not a taciturn feel to them when they're on the floor or in the back. Dwyane Wade hung Udonis Haslem's shirt and jeans from a ceiling fan after the game for crying out loud (another indication it is still very much Wade's locker room, despite LeBron's looming presence). Business is probably the most outstanding theme from the sense you take away from this team. Despite the distractions, despite the egos, despite "The Decision," this team focused on executing business. It may have been all fun and games over the summer or in previous years, but the backlash has forged in this team a determination mentally that's been apparent in their brief time on the court.
Chris Bosh
, after the Heat victory in which he scored 23 points, primarily from the attention drawn by LeBron, also spoke to the level of intensity that's already present with the Heat.
"It is all business," Bosh said. "Everything we do is professional. We handle everything in a professional manner. We practice extremely hard. We work hard in the weight room, in the training room, to prepare us the right way to play. That's the nature of the Heat organization. I think everyone has accepted it and we have that in the back of our minds every time, that we have a lot of expectations on us. And in order to fulfill those expectations we're going to have to work hard and be professional and make sure we get something done and make progress every day."
Bosh said he got over the excitement of playing with Wade and James in training camp. "Once it was business as usual" it was "natural." You have to wonder that in the middle of all the rumored "glorification" of the free agents, if this was the real secret of Pat Riley's success, explaining that his approach is to be professional and reach your goals. Instead of discussions about earning a billion dollars, or playing in this or that city, Riley's approach paid off and so far, it seems to have taken hold. The word sacrifice is spoken often by the Heat, from role players all the way up to the superstars. It's odd to hear it from them after a summer of so many people calling them selfish for leaving their respective teams. But they're very much dedicated to at least talking about it. Heat head coach Erik Spoelstra said that all three of the Triad superstars came in knowing the sacrifice they were going to have to make. Whether that will translate to the floor and locker room is another question that can only be answered by the grind of the regular season, but it can't be denied that the idea is on their mind. And for now, the team itself hasn't allowed many outside influences to start creeping in.
Two people I talked to close to the situation said that as of yet, James' entourage haven't become integrated with the Heat's organization. They are present, but not overt as some feared they would be. Then again, this is October 11th, not February or April, and things are very much different now than how they will be then. The challenge for the Heat will be to keep themselves invested in that business approach, in the intensity Haslem spoke of, while not grinding themselves into nothing. Maybe simply pulling pranks on teammates like Wade's tilt-a-whirl of Haslem's jeans will keep the team loose enough while it focuses on taking its energy out on the critics who doubt them.
One way or another, this season is setting itself up to reveal a lot not only about
LeBron James
and his legacy, but about this group of professionals the Heat have surrounded the Triad with. One thing's for sure, with all the hype, talent, attention, criticism and expectations they'll face this year, and despite what they may tell reporters, it won't be business as usual.