Posted by Royce Young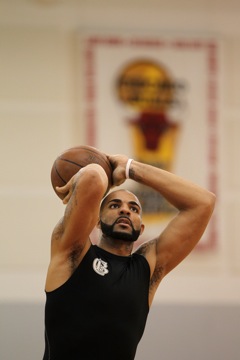 When athletes are injured in freak accidents it's easy for people to go "Hmmm." Especially those signing the checks. It happens a lot that the story originally relayed isn't what really happened.
Monta Ellis
initially told the
Warriors
he was injured playing pickup ball before it was revealed he was hurt on a moped. You know, that sort of thing.
And according to a report from the New York Daily News,
the
Bulls
were planning on investigating the recent hand injury suffered by
Carlos Boozer
. Boozer claimed he broke the hand tripping over a gym bag while he went to answer the door.
But wait a second. That might not actually be true. (The report, that is.) From both Bulls insider
Sam Smith
and the
Chicago Tribune's K.C. Johnson,
maybe the Bulls aren't actually investigating the injury. In fact, Smith called the story a "media fabrication."
What's the cause for distrust? It's mainly because of the way Boozer's hand broke. As Johnson mentions, Boozer's type of broken hand is often referred to as a "boxer's fracture," meaning exactly what that suggests. That Carlos Boozer punched something. Some fans even thought that it could have to do with Boozer's recent divorce. So if you add that up, Boozer got mad, punched a wall or something, thought "Oh crap, I'm gonna get in trouble," and then made up a story about a trippy gym bag.
Johnson's report mentions that there were no scraped knuckles, no swelling or no redness when Boozer was examined by team doctors.
However, Chris Mannix of Sports Illustrated who is a boxing expert as well as NBA reporter,
said he talked to two doctors and both said,
without examining him, they "highly doubted" it could happen the way Boozer described. Breaks like Boozer's usually involve closed fist punch. So maybe it's not that easy to close the door on it.
Only Boozer really knows what the story is but this much is sure: The Bulls don't appear to care at this point. Nor should they. They just locked Boozer up for five years and $80 million. I don't think it would be getting the relationship off to the best start if they started prodding and poking around Boozer's injury. In a subtle way, they'd be calling their new star a liar, totally compromising trust and loyaty before this thing even got started. So it's probably in Chicago's best interest just to take Boozer's account at face value.
Bulls coach Tom Thibodeau put it simply: "It's a non-issue to us."
Doesn't sound like it should be either.