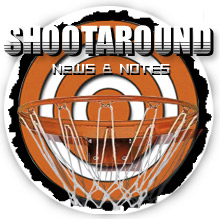 Posted by Royce Young
The Nuggets are still looking at options says The Denver Post. And Carmelo says this process has his head spinning: "On the court, it's easy. Off the court — confusing. Just dealing with all of it, just hearing it. Once I'm in the gym, I play the way I play. . . . I'm approaching this season like I would any other season. I'm just getting ready for the next game. I can't worry if I'm going to be here today or tomorrow."
Ben Golliver of Blazersedge: "Potentially the bigger issue for Miller is that he didn't get a look at captaining the second unit like he did last year. Instead, Nate McMillan leaned heavily on Matthews and gave extended looks to both Jerryd Bayless and Rudy Fernandez. After shootaround this morning, McMillan said Bayless/Fernandez/Matthews is a perimeter combination that he will continue to play together because of their tempo-changing ability and complementary skills. Preseason or not, Miller's playing time is therefore getting pressed from all sides."
Eddie Sefko of The Dallas Morning News: "Hopefully, Mavericks fans took a close look at the Cleveland Cavaliers on Monday night at American Airlines Center. Through not much fault of their own, the Cavs have become the NBA's No. 1 example of what can happen when your superstar walks. They are irrelevant without LeBron James, even in the Eastern Conference, which still has a sizeable sub-league of poor teams despite the talent at the top end. Remember, this could have happened to the Mavericks, too. Just imagine what they would look like without Dirk Nowitzki. Not that he's LeBron. But Nowitzki is as important to the Mavericks' success as James was to Cleveland's. ... The Mavericks are fortunate to have a superstar who loves his surroundings and is willing to help make it work in Dallas. Those are few and far between. And because of Nowitzki – and no matter how the Mavericks look so far in the preseason -- they at least remain relevant in the Western Conference."
Basketball is an emotional game. Players scream after dunks, rebounds and blocked shots. They're playing hard, working to stop the man in front of them. When they get tagged for a call, sometimes they just react. And with the new rules enforcing technicals, some players are worried they're being robbed of that emotion.