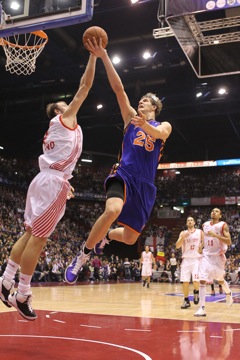 Posted by Royce Young
Interior depth is an issue for the 2010-11 version of the New York
Knicks
. Example 1: Rookie and Euro import
Timofey Mozgov
has been named the starting center as announced by coach Mike D'Antoni. Who did he beat out?
Ronny Turiaf
and
Eddy Curry
. So that should tell you something.
However, Mozgov's offseason signing with the Knicks was mostly overlooked, especially up until the Russian rookie flashed some ability in the World Championships in Turkey. In the Worlds, Mozgov averaged 13.0 points per game and 4.4 rebounds per game while playing just 20.5 minutes an outing. He shot over 63 percent from the floor and notched 13 points and four rebounds against Team USA.
But who is Timofey Mozgov? (Yes, that's Timofey with an "f".) He's 24, 7'1 and 250 pounds. Around the basket, he's excellent. And by "around the basket" I mean, like underneath it. Once Mozgov starts stepping away from the tin, he's less and less effective. I'm not even trying to make a joke here, but in Turkey if he was five feet out, he probably wasn't scoring.
That's not to say he doesn't have a chance. He moves well for his size, has nice hands and his footwork is getting there. The Knicks obviously are going to want to run and for a seven-footer, Mozgov moves well. His primary job will likely be to clear the glass on the defensive end, outlet and then prod along up the court. Playing next to
Amar'e Stoudemire
, Mozgov won't be a focal point of any of the Knicks' offensive sets, but he could get some easy looks when teams double Stoudemire.
It's good to hear D'Antoni is going with the younger project center to try and develop some talent from within. Mozgov may be a work in progress but he does have upside. His first start in his new role will come Wednesday at Madison Square Garden against
Shaquille O'Neal
and the
Celtics
.