Posted by Matt Moore
It was crunch time. Even in the preseason, you need your team focused, ready, able to execute in high pressure situations like this one. Down by two with less than ten seconds left in an exhibition game in Mexico City, Coach Gregg Popovich called timeout, huddled his men, and...
Gave the keys to
Manu Ginobili
. Ginobili took over the huddle for the
Spurs
' final shot, coaching through the timeout. No seriously. Look, there's even evidence,
courtesy of the infamous @Jose3030 on Twitter
and NBATV: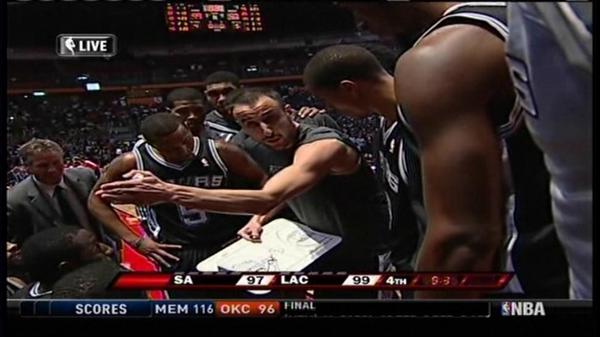 As Kelly Dwyer noted on Twitter,
he even coaches left handed
.
The result? A
Gary Neal
three-pointer to win it for the Spurs after
Chris Kaman
tried to take a dribble with just over a second left on the ensuing possession. Why? Because they're the
Clippers
, and that's pretty much how they roll.
It was just a fun sequence and a fleeting glimpse of the regular season's intensity, which is less than two weeks away now. We're in the stretch run. And in the meantime we get fun things like Manu Ginobili, X's and O's man. And when a dude with that kind of goatee (and multiple championship rings and international greatness) talks, you listen.
The Spurs: smart and disciplined from the top on down.
If you're wondering who Neal is, he was an undrafted rookie who went to Europe for a few years and then was brought over for Spurs' Summer League. After a fantastic showing there, he was given a contract for this season. In Summer League he dispalyed tremendous perimeter speed and uncanny shooting ability from the arc... much like the game winner he dropped on the Clips tonight. Keep an eye on him, might be yet another find for R.C. Buford and the Spurs organization from the nether reaches of Europe.